A recipe from EntertainingCouple.com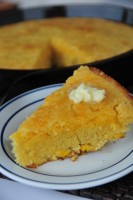 Skillet Corn Bread
We stopped for dinner in Rutherford and ordered the cornbread. I think it's safe to say that it was the best cornbread I had ever eaten. Read our post for more info...

Recipe
Ingredients:
1/3 cup vegetable oil
1/2 cup white sugar
2 eggs
3/4 cup buttermilk
1 teaspoon baking powder
1 teaspoon salt
1/2 teaspoon baking soda
1 1/2 cups yellow cornmeal
1/2 cup flour
1 15-ounce can cream style corn
1 1/2 cups grated Cheddar cheese
1 can (4 oz) diced green chiles (optional)
Directions:
Preheat the oven to 375.  Using shortening, grease an 10″ skillet until well coated.
In large mixing bowl, whisk together the oil and sugar until slightly thickened.  Whisk in the eggs until well blended and then add the buttermilk, again whisking until well blended.  Add the dry ingredients and blend just until blended (don't overmix).  With a wooden spoon, stir in the corn.  Fold in the cheese (and chiles, if using.)  Pour the batter into the prepared pan.  Let it rest for 10 minutes.
Bake skillet corn bread at 375 on a center rack for 35- 40 minutes, or until bread tests done with a toothpick.
Total time: 70 min | Prep: 30 min | Cook: 40 min