A recipe from EntertainingCouple.com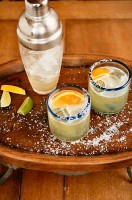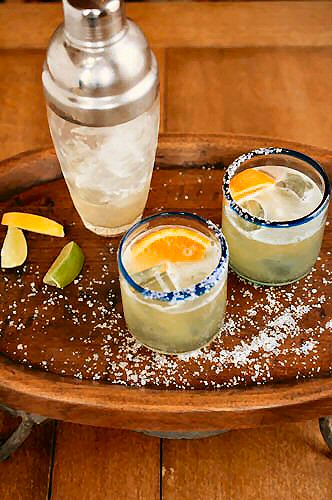 Shades of Taos Margarita
This super-premium margarita earned its name during a legendary road trip through New Mexico. It will stun you with its smooth flavor (and its kick). Read our post for more info...

Recipe
Ingredients (serves 2):
3 ounces añejo tequila
1 1/2 ounce Cointreau
1 orange
1/2 lime
1/2 lemon
1 tbsp agave nectar
Ice
Margarita salt (optional)
Directions:
Cut the orange in half.  Cut one of the halves into wedges.
* Optionally, use an orange wedge to moisten the rims of your margarita glasses, then dip the rims in margarita salt.
Fill glasses with ice.
Fill cocktail shaker with ice.
Squeeze one of each of the orange, lime, and lemon halves into the shaker.
Add the agave nectar.
Add the tequila and Cointreau.
Shake briskly for 10-15 seconds.
Pour into glasses and top each glass with a squeeze of orange.
Garnish with orange wedges and serve.
* Rather than try to remember which of our guests don't like salt with their margarita, the Bartender often salts just half the rim of every glass.  This simplifies serving and provides every guest with the option to partake of salt, or not, as they please.
Bartender's hint:  I've tried quite a few premium tequilas while concocting this recipe and am always happiest with Sauza's Tres Generaciones.  While that's still my favorite brand for this recipe, it's not always available and I've found Milagro to be a good substitute (both their añejo and reposado tequilas are equally good).  And, while I generally prefer Grand Marnier as the modifying liqueur in my margaritas, I find Cointreau to be far smoother in this recipe.
Total time: 8 min | Prep: 8 min | Cook: N/A