A recipe from EntertainingCouple.com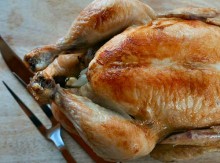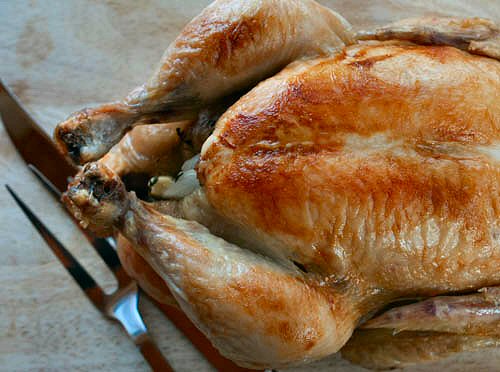 Recipe
Ingredients:
1 5-pound whole chicken (organic, if possible)
1/2 lemon, cut in thick quarter-round slices
1/2 yellow onion, cut into chunks
5 garlic cloves, sliced
Salt and pepper
4 – 5 fresh thyme twigs
1 tablespoon extra-virgin olive oil
1 tablespoon butter
Directions:
Preheat the oven to 350 degrees.
Rinse the chicken (inside and out) with cool water and pat dry with paper towels.
In a bowl, combine the lemon, onion, garlic, pepper and thyme with the olive oil.  Stir until all ingredients are well coated.  Stuff the mixture into the cavity of the chicken.  Truss with kitchen twine.  Place the chicken in a shallow baking pan, breast side up.  Spread the butter over the breast and season with salt and pepper.
Roast the chicken in the preheated oven for 1 1/2 – 2 hours (or until the temperature taken in the thickest part of the breast reads 180).  Remove and baste with the pan drippings.  Cover the roasted chicken tightly with foil and let stand for 15 – 20 minutes.  Remove the twine, carve and serve immediately.
Total time: 2.5 hr | Prep: 30 min | Cook: 2 hr