A recipe from EntertainingCouple.com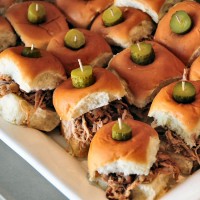 Pulled Pork Sliders
Our Pulled Pork Sliders feature slow roasted pork shoulder that's so tender you won't even need to chew. Plan ahead - it cooks overnight, and it's worth it! Read our post for more info...

Recipe
Ingredients:
Pork shoulder roast* (any size will work, plan for 1/4 to 1/2 lb per person)
Pork seasoning rub*
1-2 cups hickory chips (find at your grocer's next to the charcoal briquettes)
Barbecue sauce
Coleslaw
Dinner rolls (we especially love King's Hawaiian Sweet Rolls)
Dill pickles
Directions:
First thing in the morning the day before you plan to serve, take pork shoulder out of the refrigerator. Coat liberally with seasoning rub.  Let roast stand for 2-3 hours at room temperature.
Plan to start cooking the roast at noon.  Prepare your grill for indirect cooking*.  Place hickory chips in a bowl of water 30 minutes before you'll start cooking.
When your grill is warm, place roast so that it's not directly over the heat source.  If your type of grill permits, add 1/2 inch water to a foil pan and place under the roast.
Drain half the hickory chips.  If using a charcoal grill, place chips directly on the coals.  If using a gas grill, wrap chips in aluminum foil and place on your grill directly over the gas flame.
Close grill lid.  When hickory smoke dies down (after 15-20 minutes), repeat the step above with the remaining hickory chips.  Grilled meat only absorbs smoke for the first 45-60 minutes so any additional hickory smoke is unnecessary.
Keep lid closed.  Monitor the grill temperature closely throughout the rest of the day (adding briquettes occasionally if using charcoal).  Open or close vents as necessary to maintain the temperature at 225 degrees, no warmer than 250 degrees.
After 8-10 hours of grilling, your roast will look amazing — but trust us, it's not done yet!  Remove roast from the grill, wrap tightly in aluminum foil, and place in your oven on a shallow pan.  Finish roast overnight at 200 (yes, two hundred) degrees.
The next day, remove roast from oven and, using a fork (or two), shred the meat completely into a large pan or a crock pot.
Cover and, depending on how soon you want to serve, either refrigerate or keep warm.
Assemble each slider with a forkful of pulled pork, a drizzle of barbecue sauce, and a spoonful of coleslaw. Garnish with a dill pickle slice.  Or, just lay out the fixin's and let your guests serve themselves!
*Hints:
Pork shoulder roast is found under several different names:  Shoulder blade roast, pork butt roast, Boston Butt, etc.  Don't buy a pork tenderloin, pork leg, or any other cut.  For pulled pork, you want the meat from the shoulder ("butt" means the butt-end of the shoulder, not the butt-end of the pig!).  Tell your butcher you're making pulled pork if you're unsure.
Pork seasoning rub:  We get great results with several off-the-shelf pork rubs, so we don't offer a recipe of our own. There are great recipes on the web if you want to make one with your own ingredients.
Indirect grilling:  The Bartender swears by his Weber charcoal grill.  He starts with 12 briquettes on each side of the kettle and adds 4-6 briquettes to each side every 60-90 minutes.  If using a gas grill, follow your instructions for indirect grilling and strive to keep the temperature low; make sure you have enough fuel for 8-10 hours of grilling!
Total time: 24 hr | Prep: 30 min | Cook: 18-24 hr