A recipe from EntertainingCouple.com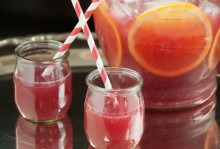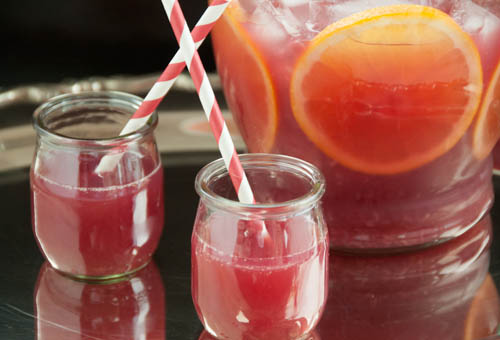 Pomegranate Mocktini
We created this tasty "virgin" version of our Pomegranate Martini for The Bartender's first-ever appearance at a public event. Read our post for more info...

Recipe
Ingredients (makes about 20 servings):
24 ounces fresh pomegranate juice
24 ounces fresh squeezed orange juice
10 ounces premium lemonade
16 ounces sparkling water (Pellegrino or similar)
Ice
Directions:
Combine the pomegranate juice, orange juice, and lemonade in a punchbowl.  Stir.
Add sparkling water and ice.  Stir gently and serve.
Bartender's hint:  As with our pomegranate martini recipe, your choice of pomegranate juice is very important.  There are many varieties out there, but in our humble opinion only pure pomegranate juice from your grocer's refrigerated juice section will yield a great result; juices found in the bottled juice section are too thin and light.  Also, we've tried some of the blends (pomegranate with blueberry, mango, acai, and others) and have been disappointed each time, so we recommend sticking with basic, straight pomegranate juice.  POM will give great results, as will Odwalla if you can find it.
Total time: 10 min | Prep: 10 min | Cook: N/A