A recipe from EntertainingCouple.com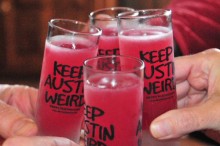 Pomegranate Margarita Shooters
Pomegranate juice paired with tequila? You bet! These pomegranate margarita shooters are amazing!

Recipe
Ingredients (serves 4):
Ice
1 fresh lime, halved
3 ounces premium blanco (silver) tequila
3 ounces Cointreau
3 ounces premium pomegranate juice (POM or Odwalla are our favorites)
1/2 tablespoon Agave Nectar
Directions:
Fill large cocktail shaker with ice
Squeeze in the juice of the lime halves
Add tequila and Cointreau
Top with the pomegranate juice and Agave Nectar
Shake briskly for 10-15 seconds and serve in chilled shot glasses
Bartender's hint:  Use a good quality pure pomegranate juice from the refrigerated juice section of your local store.  The flavor of pomegranate "cocktails" (you'll find these in the juice aisle next to the canned juices) isn't robust enough to properly mingle with the liquor.  And we avoid the myriad of blends (pomegranate/blueberry, pomegranate/mango, etc.) as we just don't think they taste as good as the pure stuff.
Total time: 5 min | Prep: 5 min | Cook: N/A