A recipe from EntertainingCouple.com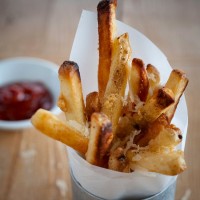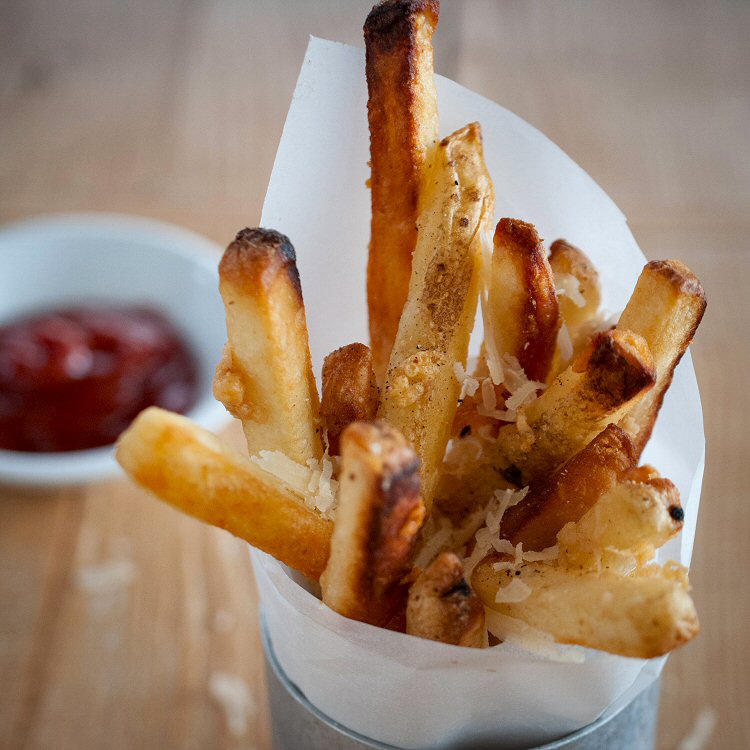 Parmesan Truffle Fries
Who knew that oven-baked french fries could be so tasty? Our recipe for Parmesan Truffle Fries uses truffle oil and grated Parmesan cheese for a side dish that's truly amazing. Read our post for more info...

Recipe
Ingredients:
1 lb. frozen French fried potatoes
3 – 4 tablespoons White Truffle infused olive oil
About 6 tablespoons grated Parmesan cheese (fresh, not canned)
Salt and fresh ground pepper
Directions:
Place a  rack in the middle of the oven and preheat to 425 degrees.
Drizzle about 2 tablespoons olive oil on a non-stick, rimmed baking sheet.
Spread the potatoes evenly over the olive oil.  (It doesn't seem to matter if they aren't perfectly laid out in a single layer fashion.)
Drizzle an additional 1 – 2 tablespoons olive oil over the potatoes.  Using a pastry brush, dab the oil over the potatoes (also using some from the pan) to ensure the potatoes have a nice bit of oil on them.
Cook, flipping the potatoes after about 15 minutes.  While you've flipped them, sprinkle about 2 tablespoons of the Parmesan cheese over the truffle fries.  Return to the oven and cook for an additional 15 minutes, or until golden brown and crisp.
Remove from the oven.  Give the the truffle fries a good sprinkle of salt and a dash of pepper and then sprinkle the remaining Parmesan cheese on top.
Serve immediately.
Total time: 35 min | Prep: 5 min | Cook: 30 min