A recipe from EntertainingCouple.com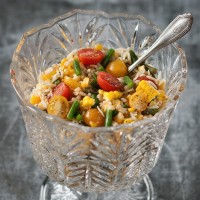 Orzo And Vegetable Salad
A version of this salad was originally in Sunset Magazine. A friend graciously shared the recipe with me. You can make it ahead of time and just toss it right before serving.

Recipe
Ingredients:
Salad:
1 pound fresh green beans, prepped for cooking
4 ears fresh corn, husked
2 cups cherry tomatoes
1 1/2 cups dried orzo pasta (or similar)
Dressing:
1/3 cup white wine vinegar
2 – 3 cloves (roasted and smashed or diced)
2 tablespoons Dijon mustard
2 tablespoons fresh tarragon or 2 teaspoons dried tarragon
1 teaspoon sugar
Good pinch of kosher salt and several turns of fresh ground pepper
Directions:
Blanch the green beans for 3 – 5 minutes until tender – crisp.  Plunge in cold water to stop the cooking.  Cut into 1" pieces.
Cook the corn.  (Here's a link to a good process for cooking fresh corn.)  Let cool and cut kernels from the cobs.
Wash the tomatoes and cut in half.
Cook orzo/pasta according to package instructions until al dente.  Drain if necessary and allow to cool slightly.
In a small bowl, whisk together the dressing ingredients.
Place the orzo/pasta in a large bowl.  Drizzle with half the dressing and mix well.  Pat the mixture into the bowl, then top with the beans, corn and tomatoes.  Cover and refrigerate.
Just prior to serving, add the remaining dressing and toss all of the ingredients to mix well.
Hostess' hint:  This orzo and vegetable salad recipe makes about 12 servings.
Total time: 45 min | Prep: 30 min | Cook: 15 min