A recipe from EntertainingCouple.com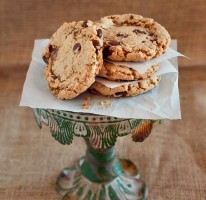 Oatmeal Peanut Butter Cookies
Adapted from Sunset Magazine, 2008.

Recipe
Ingredients (makes 30-36 cookies):
1 cup unsalted butter, at room temperature
1/2 cup granulated sugar
1 cup firmly packed brown sugar
1 cup smooth peanut butter
2 large eggs
2 tablespoons vanilla
2 1/2 cups all-purpose flour
1 teaspoon baking soda
2 1/2 cups quick-cooking oatmeal
2 cups semi-sweet chocolate chips
Directions:
Preheat oven to 350.  Position rack in the middle of the oven.
In a bowl of a standing mixer on medium speed, cream butter and sugars until smooth and light. Add the peanut butter and mix until well combined.  Add the eggs and vanilla and mix until combined.
In another bowl, whisk together the flour, baking soda and oatmeal.  Add to the butter mixture, and mix on low until combined.  Stir in the chocolate chips.
Drop dough by rounded tablespoons onto un-greased baking sheet.  Bake 10 -12 minutes or until lightly browned but still soft in the center.  Do not over-bake.
Remove from oven.  Using the bottom of a flat cup lightly dusted with flour, flatten each cookie slightly.
Transfer cookies to a rack to cool.
Store your oatmeal peanut butter cookies in an air-tight container.
Total time: 30 min | Prep: 20 min | Cook: 10-12 min