A recipe from EntertainingCouple.com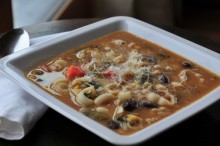 Minestrone Soup
There's just something about making a big pot of soup. It just seems to scream, "Come and share this meal with us." Read our post for more info...

Recipe
Ingredients:
3 tablespoons olive oil
1 small onion, chopped (about 2 cups)
3 stalks celery, sliced (about 1 cup)
1 zucchini, chopped (about 2 cups)
6-7 carrots, peeled and chopped (about 1 1/2 cups)
3 cloves garlic, minced
2 cups fresh green beans, "snapped" to bite size (Alternatively you can use frozen if necessary)
8 cups vegetable broth
2 cans (15 ounce)  red kidney beans, drained
1 can (15 ounce) white kidney beans, drained
1 can (28 ounce) diced tomatoes with juice
2 tablespoons minced fresh parsley
1 1/2 teaspoons dried oregano
1 teaspoon salt
1/2 teaspoon ground black pepper
1/2 teaspoon dried basil
1/4 teaspoons dried thyme
1 can (7 ounce) whole kernel corn, drained
2 cups (before cooking) medium pasta shells
Parmesan cheese
Directions:
In a large soup pot, over medium heat, heat the olive oil until the oil shimmers.  Add the onion and the celery.  Cook about 8 -10  minutes or until the onion starts to look translucent.  Add the zucchini and carrots and cook an additional 5 – 6 minutes.  Add the garlic and cook 2 minutes.  Add the green beans and cook an additional 2 minutes.
Add the vegetable broth, kidney beans, tomatoes, parsley and spices.  Bring to a boil.  Cover, reduce heat until soup is at a gentle simmer.  Simmer, over low heat, stirring occasionally, for up to 2 hours.
About 10 minutes before you're ready to serve the soup, prepare the pasta to al dente, according to package directions.  Drain and add to the soup.  Add the corn and cook for 10 minutes.
Serve with finely grated parmesan cheese on top.
Total time: 2:45 | Prep: 45 min | Cook: 2 hr