A recipe from EntertainingCouple.com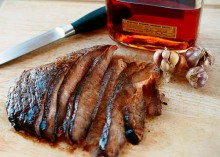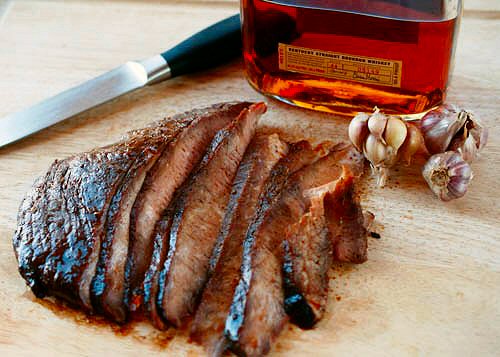 Bourbon Marinated Flank Steak
Our marinade is inspired by a recipe for "Drunk and Dirty Tenderloin" in Jamison and Jamison's "Smoke & Spice," a must-own book for any barbecue enthusiast.

Recipe
Ingredients:
1 cup soy sauce
1/2 cup bourbon
1/4 cup Worchestershire sauce
1/4 cup honey
2 tablespoons brown sugar
1/2 teaspoon ground ginger
4-6 garlic cloves, minced
2 pound flank steak
Directions:
About 3 – 4 hours before cooking, combine the first 7 ingredients.
Place the flank steak in a shallow, glass dish.  Pour the marinate over the steak.  Pierce the steak several times with a fork to tenderize and work in the marinade.  Turn the steak over and repeat the piercing.  Refrigerate uncovered, turning and piercing occasionally (about hourly).  Remove from refrigerator an hour before cooking to allow the meat to come to room temperature.
Bring barbecue to medium-high heat (about 40 briquettes if using a charcoal grill)
Place the steak on the grill (directly over the coals if using charcoal)
Close the barbecue cover and grill for 5-7 minutes
Turn the meat over and grill, covered, for an additional 5 minutes
Remove the flank steak from the grill, place on a large platter, shave/cut into chunks across the grain, and serve
* Note:  Total time includes at least 3 hours for marinating the flank steak.
Total time: 3-4* hr | Prep: 30 min | Cook: 10-12 min