A recipe from EntertainingCouple.com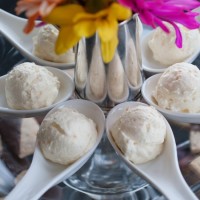 Lemon Mousse
This light and airy dessert is the perfect complement to a big, hearty meal.

Recipe
Ingredients (serves 8):
1 package unflavored gelatin
2 tablespoons Cointreau
5 large eggs
1/3 cup sugar
2 teaspoons grated lemon zest (from 1 lemon)
2/3 cup Meyer lemon juice (about 4 – 5 lemons)
1/3 cup tangerine juice (about 3 tangerines)
1 cup heavy (whipping) cream
Directions:
In a small bowl, dissolve the gelatin in 3 tablespoons cool water.  Add the Cointreau.
Zest a lemon.
Separate the eggs.  Place the egg whites in a small metal or glass bowl and the egg yolks in a heavy saucepan or top of a double boiler.
Place a bowl in the freezer (to use for whipping the cream) to chill.
Add the gelatin mixture, sugar, lemon zest, lemon juice and tangerine juice to the egg yolks and mix well, using a wire whisk.
Place the sauce pan over very low heat (or bring the water in the bottom of the double boiler to a simmer and place the top over the water).  Whisk gently and continuously until the mixture has thickened enough to coat a spoon.  Do not overcook.  Remove from heat and transfer the mixture to a large mixing bowl.  Cool completely.
Using the chilled bowl, whip the cream until stiff peaks form.
Whip the egg whites until soft peaks form.  (Don't over-whip the egg whites to the point where the are stiff and dry.)
Fold the cream into the cooled egg-tangerine mixture.  Gently fold in the egg whites until just blended.
Spoon the mousse into individual serving dishes.  (I used my ice cream scoops.)  Chill for at least 4 hours or overnight.  Garnish with mint and a piece of dark chocolate.
* Note:  Total time includes minimum 4 hours for chilling prior to serving.
Hostess hint:  You can successfully halve this recipe.  I measured the gelatin in a tablespoon and guessed at what half was.  It needed about 2 tablespoons of water to properly dissolve.  And, I used 3 eggs.
Total time: 5* hr | Prep: 45 min | Cook: 15 min