A recipe from EntertainingCouple.com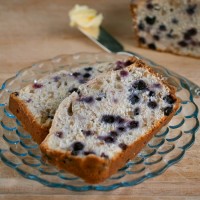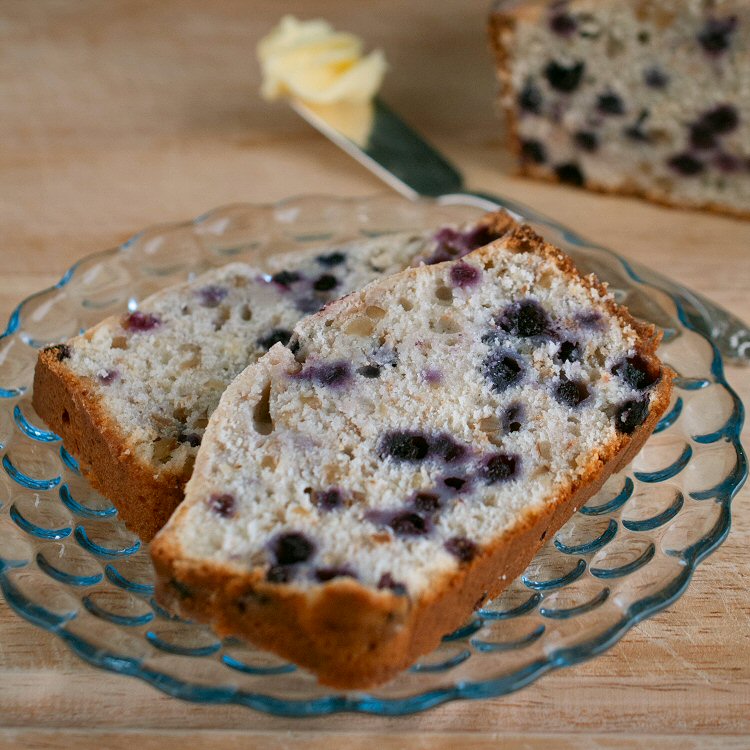 Recipe
Ingredients:
Bread:
1/3 cup butter, softened
1 cup sugar
2 eggs
3 tablespoons lemon juice (juice from one lemon)
2 tablespoons grated lemon peel
1 1/2 cups all-purpose flour
1 teaspoon baking powder
1/2 teaspoon salt
1/2 cup milk
1 cup blueberries (fresh or frozen)
1/2 cup chopped walnuts (optional)
Glaze:
1 tablespoon lemon juice
1 tablespoon milk
1/4 cup powdered sugar
Directions:
Preheat oven to 350 degrees and place a rack in the middle of the oven.  Grease a 8″ x 4″ loaf pan.  Set aside.
In a the bowl of a standing mixer, beat the butter and sugar until combined and light.  Add the eggs, one at a time, beating well after each.  Add the lemon juice and lemon peel, and beat until fully integrated.  In a separate bowl, whisk together the flour, baking powder and salt.  Add half the flour mixture to the butter mixture, and then add half the milk.  Repeat, mixing each time just until combined.  Using a wooden spoon, gently fold the blueberries and nuts into the batter, stirring just to combine.
Pour the batter into the prepared pan.  Bake for 55 – 65 minutes or until a toothpick inserted in the center comes out clean.  Meanwhile, prepare the glaze.  Cool the bread for about 5 minutes on a wire rack (still in the pan).  Pierce with top of the bread with a toothpick or wooden skewer, and then pour the glaze over the cooled bread and allow to sit for another 10 minutes before transferring to a rack to cool completely.
* Note:  Total time includes cooling.
Hostess' Hint:  If you're using frozen blueberries, don't thaw them first.  This will keep your batter from turning a nice shade of Barney purple.
Total time: 2* hr | Prep: 20 min | Cook: 60 min