A recipe from EntertainingCouple.com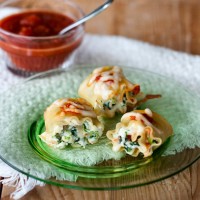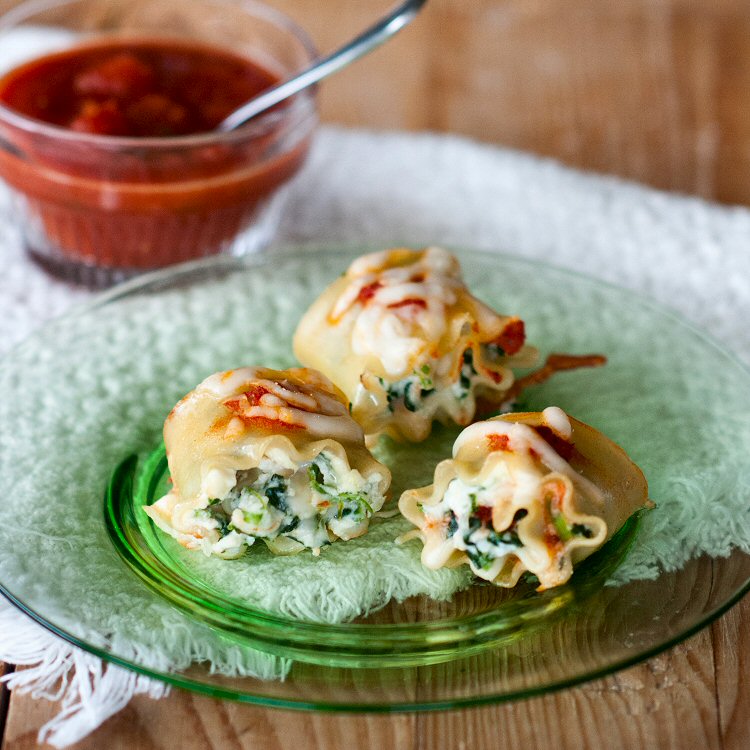 Lasagna Bites
The good news is these lasagna bites are a perfect appetizer for a party or cocktail hour. And they're vegetarian, so doubly good news for a lot of people. Read our post for more info...

Recipe
Ingredients (makes 40 bites):
10 Lasagna noodles
1 package (10 ounce) frozen chopped spinach
1 container (15 ounce) ricotta cheese
1/2 cup freshly grated Parmesan cheese
1 egg
1 jar/can pizza sauce
2 cups shredded mozzarella cheese
Directions: (Click here for helpful pictures and hints)
Preheat oven to 350 degrees.  Line a baking sheet with parchment paper.
Cook the lasagna noodles according to package directions until "al dente".  (Probably about 11 minutes.)  Rinse with cool water and then toss with about a tablespoon of olive oil.
Thaw the spinach and drain well (ensuring all the water is removed).
In a small bowl, combine the spinach, ricotta cheese, Parmesan cheese, and egg.
Put a piece of parchment or wax paper on top of a cutting board and then lay the spinach noodles out, single layer.  Cut each noodle in half widthwise.
Spread about 2 tablespoons of the ricotta mixture on each noodle half, leaving about an inch on one end.  On each half, spread about a teaspoon of pizza sauce on top of the ricotta mixture and then add about a tablespoon of mozzarella cheese on top.  Roll up each half, ending at the end with no sauce. Use your index finger to tuck the filling as you roll, if necessary.
Using a sharp knife, slice each roll-up in half widthwise.  Place each roll-up, seam side down, in the prepared baking sheet.  Dot each roll-up with pizza sauce and a sprinkle of mozzarella cheese.
Bake for 15 – 18 minutes or until the cheese mixture is melted.  Serve with warm pizza sauce for dipping.
Hostess' Hint:  These can be prepared ahead of time, up to the point of baking them, and frozen.  Bake, covered with foil, for 15 minutes and then remove foil and continue baking for another 10 – 15 minutes.
Total time: 1 hr | Prep: 45 min | Cook: 15 min