A recipe from EntertainingCouple.com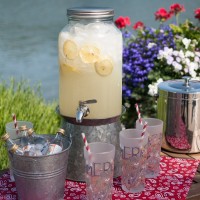 Recipe
Ingredients:
1 cup water
3 cups lemon juice (15 – 18 medium lemons)
1 1/2 cups fine sugar
5 cups ice-cold water
Ice cubes
Lemons for garnish
Optional:  1/2 cup fresh mint for mint ice cubes
Directions:
Prepare the sugar water by combing 1 cup water with the sugar in a saucepan.  Bring to a boil, stirring, until the sugar dissolves.  Remove from the heat and cool.
Juice the lemons.  Strain to remove any seeds.  Transfer the lemon juice to a large container.  Stir in the cooled sugar water.  Add sliced lemons and refrigerate.  Serve chilled with ice cubes.
Optional mint ice cubes:  Use 1 1/2 cups of the homemade lemonade.  Place one mint sprig per cube in an ice cube tray.  Slowly pour the homemade lemonade to fill each cube.  Freeze until set (about 4 hours).
Total time: 15 min | Prep: 10 min | Cook: 5 min