A recipe from EntertainingCouple.com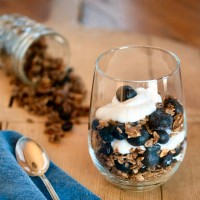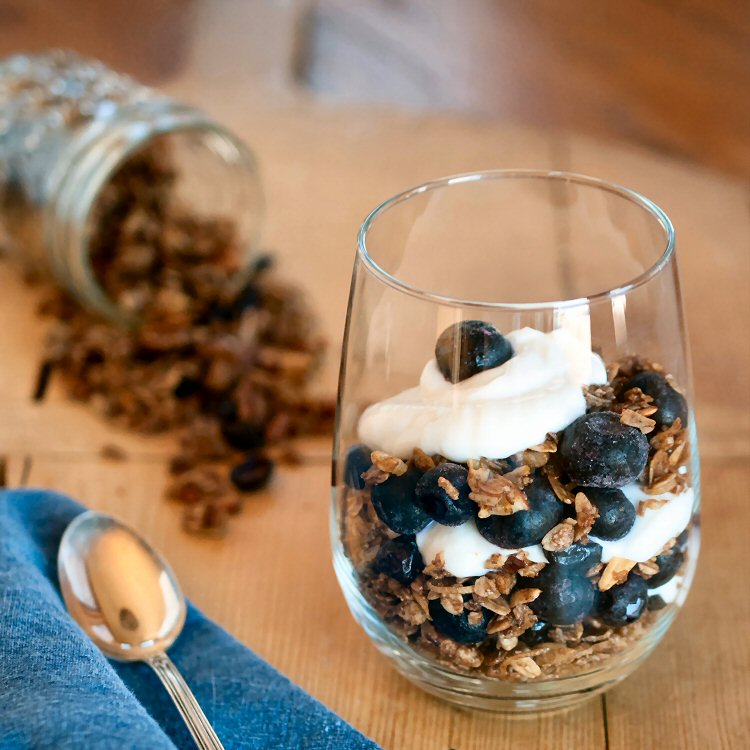 Homemade Granola
I can make this homemade granola in the time it would take me to get dressed and drive to the grocery store, and then it keeps well for a couple of weeks. Read our post for more info...

Recipe
Ingredients  (makes 2 quarts):
3 cups old fashioned rolled oats (not instant)
1/2 cup coarsely chopped walnuts
1/2 cup coarsely chopped pecans
1/2 cup sliced almonds
1/2 cup shredded coconut
1/2 cup bran
1/4 cup shelled sunflower seeds
1/2 cup brown sugar
1/4 cup molasses
1/4 cup honey
1/4 cup cold water
3 tablespoons vegetable oil
2 teaspoons cinnamon
1/2 tsp kosher salt
Dried fruits (blueberry, raisins, etc.), optional
Directions:
Preheat the oven to 300 degrees.
Line a rimmed cookie sheet (jelly roll pan) with parchment paper or foil.  Spray lightly with Pam or similar.
In a large bowl, combine the oats, walnuts, pecans, almonds, coconut, bran and sunflower seeds.  Set aside.
In a heavy saucepan, combine the brown sugar, molasses, honey, water, oil,  and cinnamon.  Over a medium-low heat, bring to a slow boil, stirring constantly.  Add the salt just as the mixture starts to boil.  As it boils, the mixture will expand and become almost "frothy."  When it reaches this stage, let it froth for about 30 seconds (stirring constantly) and then remove from the heat and pour over the oats mixture, stirring to completely coat.  Spread on the prepared cookie sheet.
Bake at 300 degrees for 30 – 35 minutes, stirring every 10 minutes.  Remove and transfer to sheets of waxed paper or parchment paper to cool.  (The granola doesn't get crunchy until it cools.)  Add the dried fruits.
Store in an airtight container or Ziploc bag.
Total time: 1:10 hr | Prep: 30 min | Cook: 40 min