A recipe from EntertainingCouple.com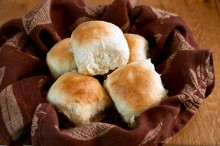 Homemade Dinner Rolls
Our light, flaky, delicious homemade dinner rolls beat your local grocer's dinner rolls every time. And they make your kitchen smell GREAT as they're baking.

Recipe
Ingredients:
1 cup whole milk
1/2 cup (1 stick) butter (plus about 1 tablespoon, melted)
1/4 cup sugar
1 teaspoon salt
2 eggs
4 – 4 1/2 cups all-purpose flour
1 tablespoon active dry yeast
Directions:
Soften the butter and warm the milk by microwaving for 1 – 1 1/2 minutes.  Test the temperature of the mixture.  It should be about 120 degrees (on an instant-read thermometer).  Pour the liquid into the pan of your bread maker.  Add the sugar and salt.
Lightly beat the eggs (you can use the same dish you used for warming the milk) and add to the milk mixture.
Pour 4 cups of flour over the wet mixture.  Add the yeast on top of the flour.
Using the "dough" setting on your bread maker, mix/knead the dough.  If after the initial mixing the dough isn't forming into a smooth, elastic ball, add additional flour, 1 tablespoon at a time until the dough is the right consistency.  Allow the dough to rise in the bread maker.  This step should take about an hour and a half to 2 hours.
Punch the dough down and transfer to a lightly-floured surface.  Knead 10 – 12 times or until no longer too sticky to handle.  If needed, lightly butter your hands for easier handling.
Pinch off golf ball-sized chunks and form into balls.  Divide the dough into 18 rolls (depending on how large you want them to be) and place 1″ apart in a buttered pan.
Cover and allow to rise in a warm place until doubled in size, approximately 45 – 60 minutes.
Preheat oven to 375 degrees.  Bake until golden brown, about 18 – 21 minutes.
Lightly brush tops with melted butter.
* Note:  Total time includes about 2 1/2 to 3 hours for the dough to rise twice.
Total time: 3:20* | Prep: 30 min | Cook: 20 min