A recipe from EntertainingCouple.com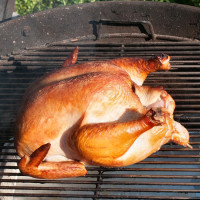 Hickory-Smoked Chicken
An outdoor grill is a quick and easy way to roast a whole chicken. Your hickory smoked chicken will be moist and tender with a mild smoky barbecue flavor.

Recipe
Ingredients:
Large whole roasting chicken (5-7 lbs)
Seasoning rub*
1-2 cups hickory chips (find at your grocer's next to the charcoal briquettes)
Directions:
Rinse chicken and pat dry (inside and out) with paper towels.  Coat inside and out with seasoning rub.  Don't stuff or truss the chicken (you want plenty of hickory smoke to get into the cavity).  Let stand at room temperature for 30 minutes while you get your grill ready.
Place hickory chips in a bowl of water and prepare your grill for indirect grilling*.
When your grill is warm, place chicken on the grill, breast-side up, where it's not directly over the heat source.  If your type of grill permits, add 1/2 inch water to a foil pan and place under the chicken.
Drain half the hickory chips.  If using a charcoal grill, place chips directly on the coals.  If using a gas grill, wrap chips in aluminum foil and place on your grill directly over the gas flame.
Close grill lid, keeping the vents wide open.  When hickory smoke dies down (after 15-20 minutes), repeat the step above with the remaining hickory chips.  Grilled meat only absorbs smoke for the first 45-60 minutes so any additional hickory smoke is unnecessary.
Keep lid closed.  Monitor the grill temperature closely, opening or closing vents as necessary to maintain the temperature between 275 and 325 degrees.
Using an instant-read meat thermometer, check the chicken's temperature (in the thickest part of the thigh and not touching the bone) after 90 minutes of grilling.  It should be around 150 degrees at this point. Drape loosely with foil and continue grilling for another 30 minutes or so.
When the temperature has is at least 165-170 degrees (may have reached this in the step above), remove chicken from the grill and let stand (covered with foil) for 10 minutes.
Carve and serve.
* Hints:
Seasoning rub:  We get great results with several off-the-shelf rubs, so we don't offer a recipe of our own.  Johnny's Pork and Chicken Seasoning is a local fave.  There are also recipes for rubs on the web if you want to make one with your own ingredients.
Indirect grilling:  We swear by our classic 22″ Weber charcoal grill.  We start with 12 briquettes on each side of the kettle and add 4-6 briquettes to each side after about 60 minutes.  If using a gas grill, follow your instructions for indirect grilling and strive to keep the temperature between 275 and 325 degrees.
Total time: 2:30 hr | Prep: 30 min | Cook: 2 hr