A recipe from EntertainingCouple.com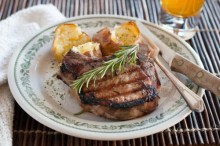 Grilled Maple-Brined Pork Chops
Brining pork chops before grilling results in meat that is juicy, tender, and full of flavor. This recipe is a great introduction to brining. Read our post for more info...

Recipe
Adapted from epicurious.com / January 2002
Ingredients (serves 4):
4 center-cut loin pork chops, 1 1/2″ thick
Freshly ground pepper
1/4 cup olive oil
Brine:
1 cup kosher salt
3/4 cup brown sugar
1 cup Grade B maple syrup
3 tablespoons Dijon mustard
2 teaspoons red pepper flakes
1/2 teaspoon whole cloves
1/4 cup fresh rosemary, chopped
2 tablespoons fresh thyme, chopped
12 garlic cloves, sliced in half
2 tablespoons ground ginger
Directions:
In a non-reactive saucepan, combine the brine ingredients in 8 cups of water,  and bring to a boil.  Remove from the heat and stir to ensure the salt, sugar and syrup have dissolved. Let the brine cool. (If you need to cool the brine quickly, place the pan in an ice bath.)  The brine must be completely cooled before adding to the pork.
Place the pork chops in a glass dish and cover with the cooled brine.  Cover and refrigerate for 10 – 12 hours.  (Longer than 12 hours will cause the pork to start to take on the flavor and texture of ham.)
Remove the pork from the brine and pat dry.  (Do not rinse.)
Prepare the grill with hot and medium cooking areas.
Season the chops with pepper. and brush with the oil.  Sear the chops over the hottest part of the grill for about 1 1/2 minutes on each side.  Move the chops to the medium heat, cover the grill and cook to the desired doneness.  Check the temperature after about 10 minutes using an instant-read thermometer.  An internal temperature of 145 – 150 degrees will result in a pink, moist chop.
Serve immediately.
* Note:  Total time includes 10-12 hours standing time for brining.
Total time: 12-13* hr | Prep: 20 min | Cook: 15-20 min