A recipe from EntertainingCouple.com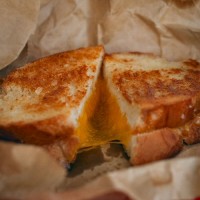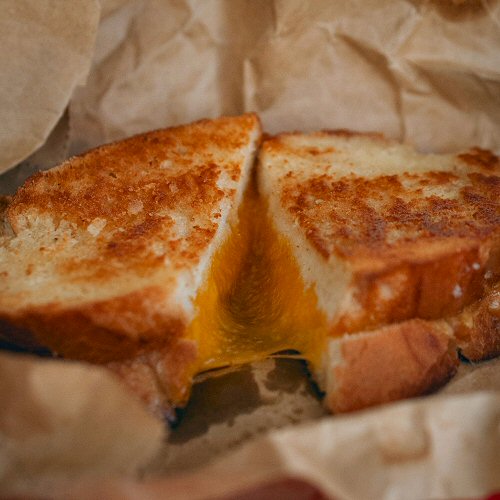 Grilled Cheese Sandwich
I have lots of practice at making these sandwiches for kids of all ages. Mastering a perfect grilled cheese sandwich is really not difficult; it just takes a little bit of know-how and patience. Read our post for more info...

Recipe
Ingredients:
French, sourdough, or egg bread, sliced about 1/2″ thick (you'll need two pieces per sandwich)
Good-quality medium cheddar cheese (or similar cheese of your choice)
Butter
Directions:
Slice the cheese thin, and then layer it on one piece of the bread. Thin pieces layered helps the cheese to melt.  Add the second piece of bread on top of the cheese.
Butter the outside of the bread, on both sides.
Place a pan over medium-low heat.  Add the sandwich, butter side down and cover.  Set the heat so it's hot enough to toast the bread but low enough to slow cook the sandwich so the cheese gets perfectly melted and oozy.  On my stove that's medium-low.
You'll probably need to let the sandwich cook several minutes on each side.
You can add a variety of ingredients to these sandwiches:  Ham, bacon, tomatoes, or tuna fish salad.  Whatever you like can easily be melted into this grilled cheese sandwich.
Hostess' Hint:  My favorite cheese for a grilled cheese sandwich is Tillamook's medium cheddar cheese.  I love the way it melts into a perfect creaminess.
Total time: 10 min | Prep: 5 min | Cook: 5 min