A recipe from EntertainingCouple.com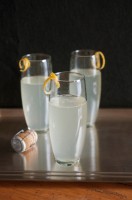 Recipe
Ingredients (serves 1):
Ice (cubes, not crushed)
1/4 ounce gin
1/4 ounce Cointreau
1/4 ounce fresh lemon juice
Pinch of sugar
4 ounces Champagne or sparkling wine
Directions:
Fill cocktail shaker with ice
Add lemon juice, gin, and Cointreau and shake briskly
Strain into chilled Champagne flute
Sprinkle in a pinch of sugar
Top slowly with chilled Champagne
Garnish with a lemon twist
Bartender's Hint:  Our French 75 recipe assumes you're using a traditional 6 ounce Champagne flute.  It can easily be scaled up to serve several guests at once (or to accommodate larger glasses like the 9 ounce glasses shown in the picture
).  Squeeze a full lemon (typically yields about 2 ounces of juice) into your shaker and add 2 ounces each of gin and Cointreau.  Shake, fill each glass about one-fifth full, add the sugar, and slowly top with Champagne.  Load up a tray-full and let the toasting begin!
Total time: 5 min | Prep: 5 min | Cook: N/A