A recipe from EntertainingCouple.com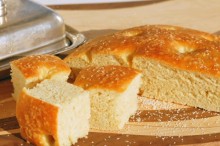 Focaccia Bread
A tasty, Italian-style bread that complements just about every main dish.

Recipe
Ingredients:
3 2/3 cups all purpose flour
1 tablespoon active dry yeast
1 cup warm water (105 – 110 degrees)
2 tablespoons + 4 teaspoons olive oil, divided
1 tablespoon + 1/2 teaspoon kosher salt, divided
Directions:
In the bowl of a food processor, combine the flour, yeast, water, 2 tablespoons olive oil and 1 tablespoon salt and, using the dough setting, process until ingredients form a ball.  (Add warm water, 1 teaspoon at a time, if needed.)
Lightly oil the inside of a glass bowl with olive oil.  Remove the dough from the food processor and transfer it to the bowl, turning to coat the entire surface with oil.  Cover with plastic wrap, and let rest in a warm place for 45 – 60 minutes.
Punch down the dough slightly and place it on a piece of parchment paper.  Using a rolling pin, start at the center of the dough and lightly roll out.  Try to not over-process the dough by limiting how many times you roll in each direction.  Once in each direction is best, rolling to about 1/2″ thickness.  It's okay if there are bubbles in the dough.  Slide the dough and parchment paper onto a baking sheet.
Let the dough rise in a warm place for 30 – 45 minutes, or until double in size.
Use your fingertips to gently poke dimples around the surface of the dough.  Lightly brush olive oil (about 4 teaspoons) over the surface allowing to pool in the dimples.  Sprinkle surface evenly with kosher salt (about 1/2 teaspoon).  Let dough rest while the oven preheats (to 425 degrees).
Bake the bread in the preheated oven for 22 -25 minutes or until golden brown.
Total time: 2:40 hr | Prep: 30 min | Cook: 25 min