A recipe from EntertainingCouple.com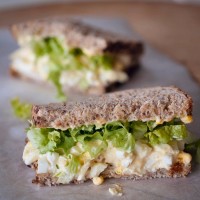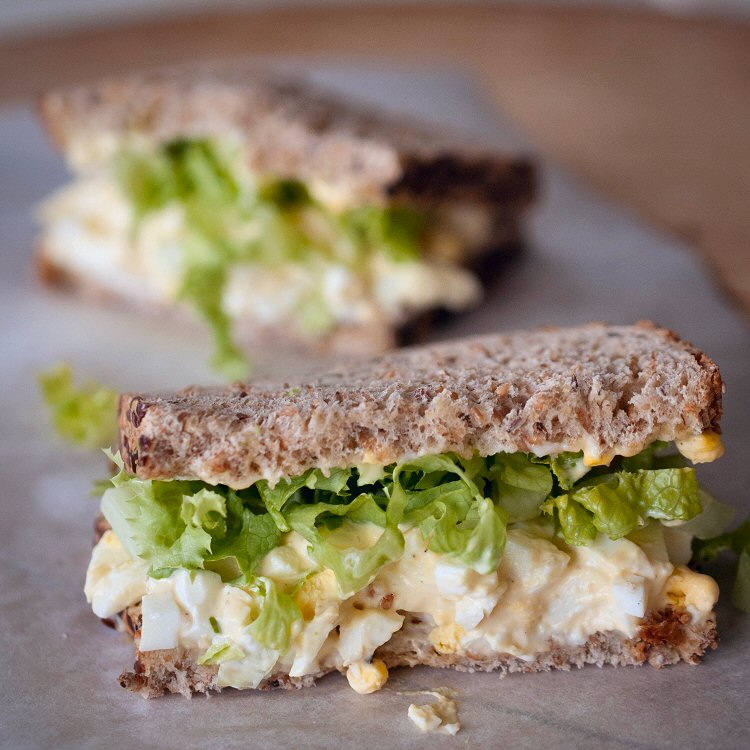 Egg Salad Sandwich
Sometimes simple is best. That's how I feel about Egg Salad Sandwiches. Three ingredients, plus a little salt and pepper, are all I need in my egg salad. Read our post for more info...

Recipe
Ingredients (makes 1 sandwich):
2 slices of bread (I prefer a good textured wheat/nut bread; choose according to your preference)
2 eggs
1 tablespoon mayonnaise
1 teaspoon Dijon mustard
Salt and pepper to taste
Lettuce
Directions:
To boil the eggs, place the eggs in a saucepan and add enough cold water to cover the eggs by about 1/2″.  Place the pan over high heat.  When the water comes to a boil, remove from the heat and cover for 10 minutes.  Dump the hot water and replace with cold water and ice cubes ("ice bath") for several minutes.  This will stop the cooking and make them cool enough to handle.
Peel and dice the eggs and place in a small mixing bowl.  Add the mayonnaise and mustard and mix it up just until blended.  Add a sprinkle of salt and dash of pepper (I like to use the salt/pepper grinders for a coarse seasoning).
To assemble the egg salad sandwich, put a light layer of mayonnaise on one slice of the bread.  Spread the egg salad mixture on the second piece of bread.  Top the egg salad sandwich with crisp lettuce and the other piece of bread.
Total time: 20 min | Prep: 10 min | Cook: 10 min