A recipe from EntertainingCouple.com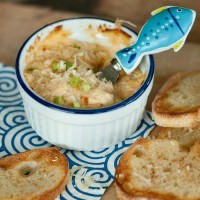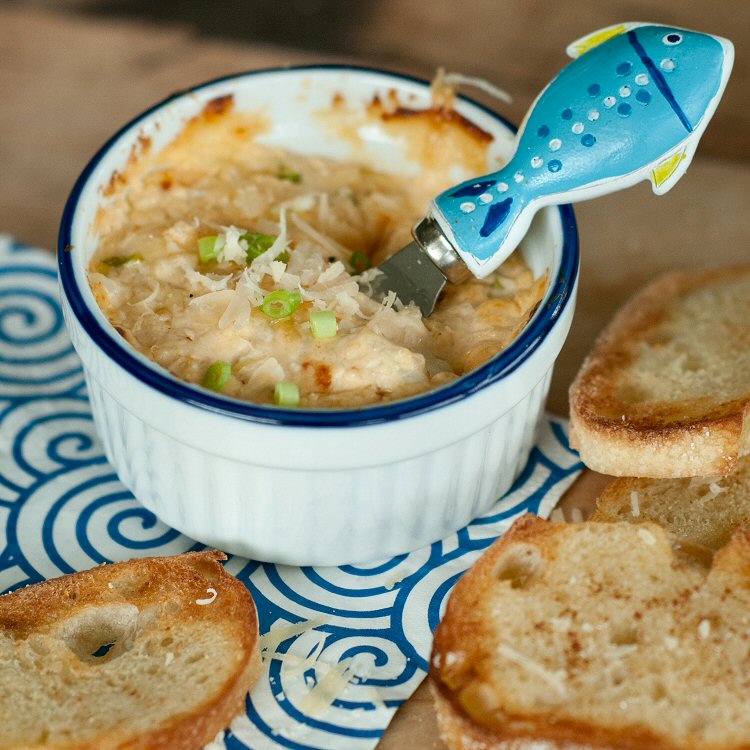 Dungeness Crab Dip
We're fortunate to live where we can catch our own Dungeness crabs. We created this recipe after a particularly successful day of crabbing. Read our post for more info...

Recipe
Ingredients:
1 8 ounce package cream cheese, softened
1/3 cup mayonnaise
2 teaspoons lemon juice
1 tablespoon horseradish
1 tablespoon cocktail sauce
2 green onions, sliced thin and just past the whites
1 cup freshly grated parmesan cheese
1 cup freshly-cooked Dungeness crab meat (a medium-sized crab will yield between 1 and 2 cups)
Baguette french bread, sliced thin, buttered and toasted
Crackers
Directions:
Preheat the oven to 350 degrees
In the bowl of a standing mixer, beat the cream cheese until it's smooth and creamy
Add the mayonnaise, lemon juice, horseradish and cocktail sauce and mix until well blended
Fold in the  the green onions, parmesan cheese and crab meat and stir until incorporated
Place mixture in an oven-proof dish. Sprinkle a little parmesan on top.  Warm until bubbly and heated through.  You can either bake it in the oven at 350 degrees for about 20 minutes or warm in the microwave and then stick the dish under the broiler until the top starts to bubble and the parmesan melts and starts to brown.
Serve Dungeness crab dip warm with the toasted & sliced baguette and/or crackers
Cooking a crab:  This recipe also works well with canned or pre-cooked crab meat, but when possible, we recommend cooking a crab yourself.  There are two methods:  #1) cook the crab (boiling it live) and then clean it, or #2) kill and clean the crab, then cook it.  Neither of these methods are for the squeamish but the results are worth it.  We prefer method #2 since it doesn't require a large stock pot for cooking (the cleaned crab halves can be easily steamed for 11-12 minutes in a covered pan), it's (arguably) more humane to kill the crab quickly before cooking it, vs. dropping it live into boiling water (method #1), and it takes the mess of cleaning the crab outside your kitchen (we clean our crabs outdoors).  There's plenty of how-to information on the internet — here's a good step-by-step example.
Total time: 35 min | Prep: 15 min | Cook: 20 min