A recipe from EntertainingCouple.com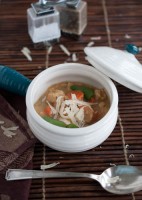 Creamy White Bean & Chicken Soup
The amazing thing about our rich yet healthy Creamy White Bean & Chicken Soup is that it has delicious creamy texture but does not contain any cream.

Recipe
Ingredients:
2 tablespoons olive oil
1 onion, chopped
3 – 4 celery stalks, sliced
1 garlic clove, minced
3 cans (15 ounce) white kidney beans, rinsed and drained
8 cups chicken stock
3 – 4 carrots, peeled and sliced
1/2 tablespoon fresh ground pepper
3 -4 sprigs fresh thyme or 1 tablespoon dried thyme
4 cups cooked/roasted chicken, diced
2 cups fresh spinach, chopped
Parmesan cheese
Directions:
In stockpot, heat olive oil over medium heat.  Add onion and celery and cook until tender, about 6 or 7 minutes.  Add the garlic and cook for 1 additional minute.  Add 2 cans of the beans and stir.  Add the chicken broth, carrots, pepper and thyme.
Bring to a boil, cover and reduce heat to low.  Simmer for about an hour or two, stirring occasionally.
If you used fresh thyme, use a slotted spoon and remove the sprigs of thyme.  Using a ladle, transfer about 3 cups of the broth (including beans and vegetables) to a blender.  And 1 can of white beans and puree.  Return the puree to the soup and stir well.  Add the chicken and simmer an additional 30 minutes, stirring occasionally.
Add the spinach and cook 1 minute.  Serve in individual bowls topped with freshly grated Parmesan cheese.
Total time: 3:15 | Prep: 45 min | Cook: 2 1/2 hr