A recipe from EntertainingCouple.com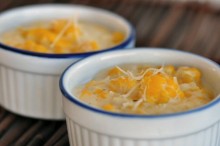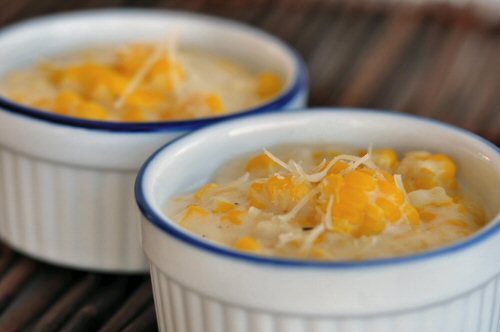 Creamed Corn Casserole
We love fresh corn on the cob. For those guests who'd prefer not to eat theirs straight from the cob, here's a delicious alternative. Read our post for more info...

Recipe
Ingredients:
6 cups fresh corn (8 – 10 ears of corn)
3 tablespoons unsalted butter
2 tablespoons all-purpose flour
1 cup half and half
1 cup whole milk
4 tablespoons sugar
1 teaspoon salt
1/4 teaspoon freshly ground pepper
3/4 cup freshly grated Parmesan cheese
Directions:
Preheat oven to 350 degrees.  Lightly butter an 8-cup baking dish or 8 individual ramekins.  Set aside.
Husk and boil the corn, on the cob, for 8 – 10 minutes.  Using a sharp knife, remove the corn from the cob.  Set aside.
Combine the half and half and milk in a measuring cup.
In a large frying pan, over medium heat, melt the butter until bubbles start to form.  Add the flour and whisk until smooth and frothy.  Continue to whisk while adding the half and half/milk mixture, a little at a time.  The mixture may clump initially but just add more milk and keep whisking.  Continue until all of the milk has been added and the mixutre is smooth.
Add the sugar, salt and pepper, and whisk to integrate.  Cook over medium heat, whisking occasionally until slightly thickened and you start to see bubbles on the surface.
Add the corn and, using a wooden spoon, stir until the corn is coated.  Add the Parmesan cheese.  Stir and let cook for another couple of minutes until the cheese has melted.
Pour into the prepared baking dish or dishes.  If using ramekins, place them on a cookie sheet before putting them in the oven.  Cook in preheated oven for 12 – 20 minutes, or until bubbly around the edges.  (Smaller baking dishes will requires less cook time.)
Serve immediately.
Total time: 1:05 hr | Prep: 45 min | Cook: 20 min