A recipe from EntertainingCouple.com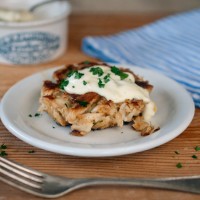 Grandma's Crab Cakes
Thanks to our friend Karen for sharing her grandmother's crab cake recipe. I've been spoiled by this recipe and seldom order crab cakes in restaurants because of it. Read our post for more info...

Recipe
This recipe will make 10 – 12 crab cakes.  The crab cakes are rich so most people will only eat 1 or 2 (this recipe can easily be cut in half).
Ingredients:
Crab Cakes:
2 eggs
3 teaspoons Worcestershire sauce
3 teaspoons lemon juice
2 teaspoons prepared mustard
3 tablespoons mayonnaise
2 teaspoons dry mustard
2 teaspoons Old Bay Seasoning
2 pounds canned lump crabmeat
1/4 cup fresh parsley, chopped
1 cup breadcrumbs
4 tablespoons butter
Tartar Sauce (optional):
1 cup mayonnaise
2 tablespoons sweet pickle relish
2 teaspoons lemon juice
Freshly ground black pepper, to taste
Directions:
Crab Cakes:
In a bowl, whisk together the eggs, Worcestershire sauce, lemon juice, prepared mustard, mayonnaise, dry mustard, and Old Bay Seasoning.
Gently fold in the crabmeat, parsley and breadcrumbs.
Shape the crab mixture into serving size patties, about 3″ in diameter by 1″ thick.
Cover loosely with plastic wrap and refrigerate a minimum of 2 hours.
When ready to cook the crab cakes, heat a griddle or large, flat frying pan over medium heat.  Melt the butter.  Saute the crab cakes in the butter, turning, until both sides are nicely browned (about 4-5 minutes on each side).
Serve immediately.  Crab cakes can be served plain or with tartar sauce.
Tartar Sauce:
Combine mayonnaise, relish, lemon juice, and pepper.
Refrigerate until ready to serve.
*Note:  Total time for our crab cake recipe includes 2 hours standing time in the refrigerator.
Total time: 3* hr | Prep: 30 min | Cook: 15-20 min