A recipe from EntertainingCouple.com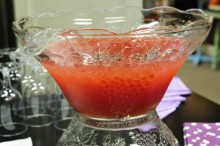 Cosmo Punch
From the bar of the Entertaining Couple comes this alcohol-free version of the Cosmopolitan. It's sure to please kids and designated drivers alike at your next dinner party. Read our post for more info...

Recipe
Ingredients (makes about 20 servings):
Ice
3 limes
10 ounces orange juice
50 ounces cranberry juice
20 ounces sparkling water
Directions:
Squeeze the limes into a punchbowl.  Add the orange juice and cranberry juice.  Stir.
Add sparkling water and ice.  Stir gently and serve.
Bartender's hint:  If all you need is a single serving, fill your cocktail shaker with ice and squeeze in a few drops of fresh lime juice.  Add a half-ounce of orange juice and three ounces of cranberry juice.  Shake briskly.  Gently stir in an ounce of sparkling water, strain into a chilled martini glass, and garnish with a lime wedge.
Total time: 10 min | Prep: 10 min | Cook: N/A