A recipe from EntertainingCouple.com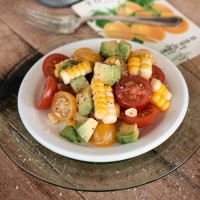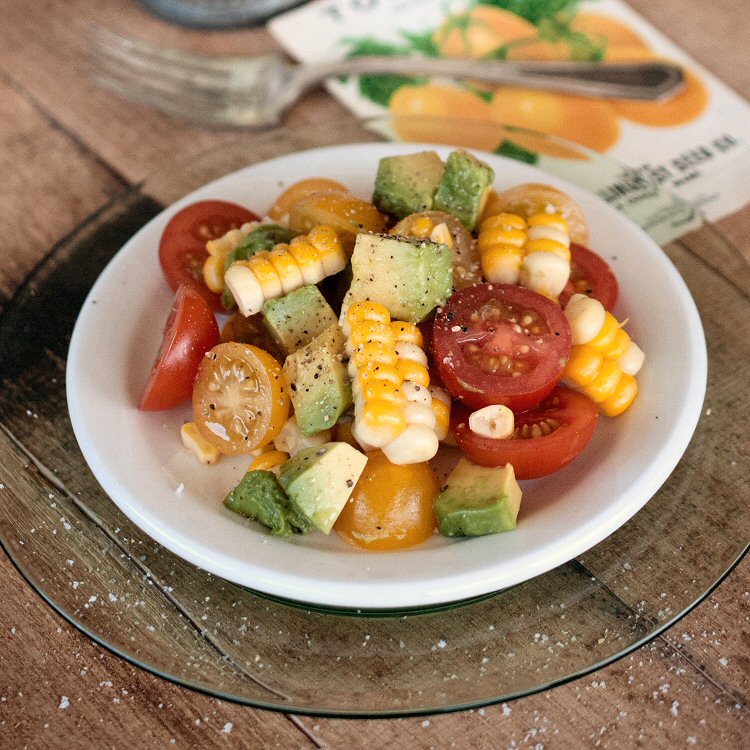 Corn, Tomato, and Avocado Salad
This salad is a great way to take advantage of the good, local corn and those fabulous small tomatoes that are available right now. Read our post for more info...

Recipe
Ingredients (serves 4):
2 ears of corn, husked
2 pints of mixed cherry tomatoes, halved
1 avocado, peeled, pitted and diced
3 green onions, thinly sliced (white parts only)
2 tablespoons freshly squeezed lime juice
1 tablespoon olive oil
Salt and pepper to taste
Directions:
Cook the corn on the cob (click here to see our favorite way).  Let cool slightly (for easy handling) and slice the kernels from the cob.
Place the corn, tomatoes, avocado and green onions in a bowl.
In a small bowl, combine the lime juice and olive oil and whisk until well mixed (and light in color).  Drizzle over the corn mixture.  Add the salt and pepper and toss to evenly coat.
This salad is best served fresh.
Total time: 40 min | Prep: 30 min | Cook: 10 min