A recipe from EntertainingCouple.com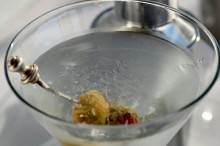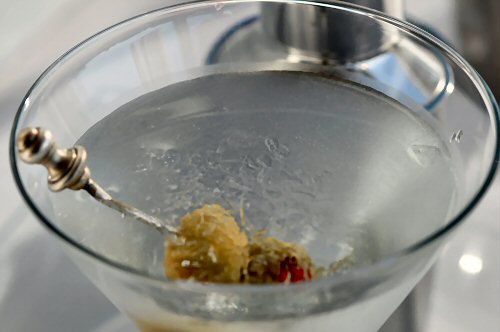 Classic Gin Martini
There are differing opinions on what constitutes a classic martini. Here's how we make them at our house. Read our post for more info...

Recipe
Ingredients (serves 1):
Ice (cubes, not crushed)
3 ounces gin
1/2 ounce dry vermouth
Martini olives
Directions:
Fill a Boston-style cocktail shaker with ice.
Slowly add vermouth to coat the ice cubes (for an extra-dry martini, drain off any vermouth that reaches the bottom of the shaker).
Add gin.
Join the two halves of the shaker together and shake briskly for 15-20 seconds.
Set shaker aside to rest for a minute.
Give the shaker 2-3 quick shakes, then strain into chilled martini glass.
Garnish with two skewered olives.
Bartender's note:  Make sure to shake the gin martini briskly enough for the ice cubes to begin breaking apart.  Allow some ice flecks to come through the strainer so that a thin layer of ice floats on the surface of the cocktail.
Total time: 5 min | Prep: 5 min | Cook: N/A