A recipe from EntertainingCouple.com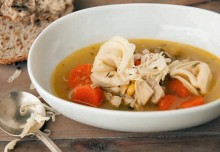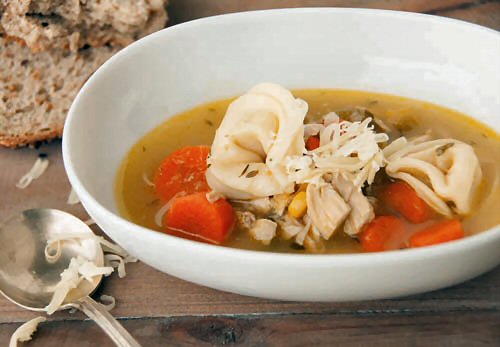 Chicken Tortellini Soup
Turkey is an easy alternative to chicken in this delicious soup. It's a great use for those Thanksgiving leftovers. Read our post for more info...

Recipe
Thanks to Tyler Florence for his inspiration on this recipe.
Ingredients:
2 tablespoons olive oil
3/4 yellow onion, chopped (about 1 1/2 cups)
3 – 4 ribs celery, sliced (about 1 1/2 cups)
2 garlic cloves, diced
3 – 4 carrots, peeled and sliced (about 1 1/2 cups)
8 cups chicken broth
1/2 teaspoon black pepper
1 teaspoon salt, or to taste (adjust based on broth used)
1 tablespoon dried parsley
1 bay leaf
4 fresh thyme sprigs, tied into a bundle
3 cups cooked chicken, diced
1 package three cheese tortellini (9 oz)
1 can (15 ounce) whole kernel corn
Directions:
In a stockpot, heat the olive oil over medium heat.  Add the onion and celery and cook until the onions are tender, about 5 -7 minutes.  And the garlic and cook 1 minute longer.  Add the carrots, chicken broth, pepper, salt, parsley, bay leaf and thyme.
Bring to a boil. Cover, reduce heat until soup is at a gentle simmer and cook for about an hour.  Or longer.  It won't hurt it to sit on the burner and simmer for a couple of hours.
Remove the bay leaf and thyme bundle.  Add the chicken and continue to simmer for about 30 minutes.  Add the tortellini and corn and simmer for about 10 minutes.
Serve in individual bowls, garnished with grated Parmesan cheese.
Total time: 2:15 hr | Prep: 30 min | Cook: 1:45 hr