A recipe from EntertainingCouple.com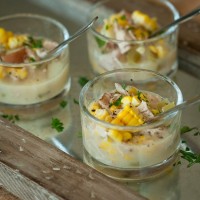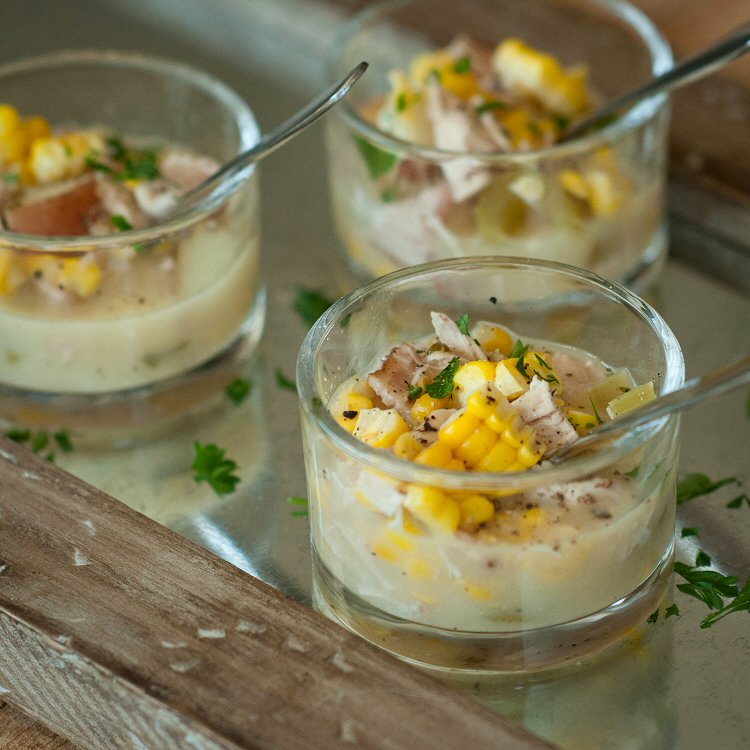 Chicken Corn Chowder
This soup is a great way to use leftover roasted chicken. And it's especially good when you can find fresh corn. Read our post for more info...

Recipe
Ingredients (serves 6):
2 tablespoons olive oil
2 tablespoons butter
4 slices bacon, fat trimmed and cut into 1/4″ pieces
1/2 of a large onion, chopped (about 1 cup)
4 celery stalks, sliced
2 red potatoes, scrubbed but not peeled, cut into 1/2″ cubes (about 2 cups)
4 tablespoons all-purpose flour
5 cups chicken stock
1 15-ounce can cream style corn
2 cups cooked chicken, cut into bite-size pieces (small enough to fit into a soup spoon but not too small that the pieces get lost)
2 tablespoons fresh parsley, chopped
1 teaspoon salt
1/2 teaspoon ground pepper
1 cup milk
2 ears fresh corn, husked, cooked and cut from cob (or 1 15-ounce can corn niblets)
Directions:
In stockpot, heat olive oil and butter over medium heat until butter is melted.  Add the bacon and cook until bacon is brown but not crisp. Give it a stir occasionally to keep the bacon from sticking.  Add the onion and celery.  Cook, stirring often, until the onions are translucent, about 10 minutes.
Add the potatoes.  Stir well to coat and cook for 2 – 3 minutes.  If the vegetables start to stick to the pan, add a little more butter.
Sprinkle the flour over the vegetables, and stir well to coat the vegetables and until there are no lumps of flour.
Add the chicken stock, about a cup at a time, and stir well after each addition.  The mixture may be a bit gummy at first, but just keep adding the chicken stock (and scraping the bottom if necessary) and it will all come together. Add the cream style corn, chicken, parsley, salt and pepper.  Bring to a boil and then reduce the heat to low, cover and simmer for 20 – 25 minutes, or until potatoes are tender.
If using fresh corn, cook.  (click here to see our favorite way)
Add the milk and corn and cook on low heat until heated through, about 5 – 10 minutes.
Serve immediately.
Total time: 1:20 hr | Prep: 30 min | Cook: 50 min