A recipe from EntertainingCouple.com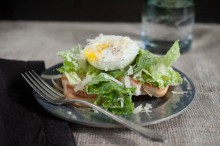 Caesar Salad with Poached Egg
The first time we ever served this salad it was such a hit that our guests begged to have it again the next evening.

Recipe
Ingredients (serves 6):
2 hearts of romaine lettuce
4 tablespoons Caesar salad dressing
12 eggs
12 slices French bread (1/2″ thick)
1/4 cup Parmesan cheese, grated
Directions:
Wash and dry the lettuce.  Tear or cut into pieces.  Place in a large bowl and toss to coat evenly with the dressing.
Poach the eggs to a soft center, about 3 – 4 minutes.
Lightly butter the French bread.  Broil until lightly toasted.  Place 2 slices on individual plates.  Layer the lettuce on top of the bread.  Place 2 eggs on top of each salad.  Sprinkle with the parmesan cheese.
Season with salt and pepper.
Serve immediately.
Total time: 20 min | Prep: 15 min | Cook: 5 min