A recipe from EntertainingCouple.com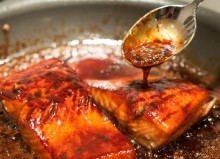 Bourbon Glazed Salmon
We love this quick and easy recipe. The smoky-sweet bourbon glaze really complements the sweet flavor of the salmon.

Recipe
Ingredients (serves 2-4):
4 tablespoons butter
1/2 cup brown sugar
2  – 4 salmon steaks, with the skins on
1/3 cup bourbon whiskey
Directions:
In a small frying pan, over medium heat, melt the butter.  Stir in the brown sugar.
Place the salmon steaks on top of the butter/sugar mixture, meat side down.  Cook for  5 minutes.
Turn the salmon skin side down.  Remove the pan from the heat (to reduce the splatter) and add the bourbon around the salmon.
Return to heat and continue cooking for 5 minutes, or until the fish flakes easily with a fork, while spooning the glaze over the salmon.
Serve immediately.
Total time: 15 min | Prep: 5 min | Cook: 10 min