A recipe from EntertainingCouple.com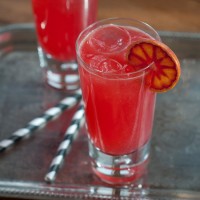 Blood Orange Gin and Tonic
When blood oranges are in season, try this fun alternative to the classic gin and tonic. In spite of its color, this drink is tart, not sweet -- just like the classic G&T. Read our post for more info...

Recipe
Ingredients:
Gin
Tonic water
Fresh blood oranges
Ice
Directions:
Cut 1-2 blood oranges in half and squeeze juice into a measuring cup.
Fill a 12-ounce highball glass with ice.
Fill glass 1/4 full with gin (approximately 2 ounces).
Add 2 ounces blood orange juice.
Top with tonic water and stir gently.
Garnish with a blood orange slice.
Bartender's hint:  Blood orange juice isn't as sour as lime juice, so where you'd normally only need 1-2 slices of lime for a conventional gin and tonic, you'll need much more blood orange juice to make a perfectly balanced blood orange gin and tonic.  Plan on using the same amount of blood orange juice as gin.  If your glasses are smaller than 12 ounces, use less gin and blood orange juice than this recipe calls for.
Total time: 10 min | Prep: 10 min | Cook: N/A