A recipe from EntertainingCouple.com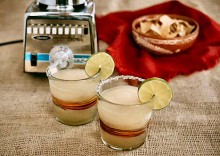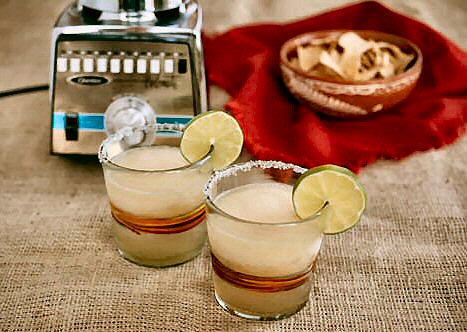 Blended Gold Margarita
Make sure you have at least 3-4 cans of mixer in your freezer, because once you serve the first round, your guests are going to demand more! Read our post for more info...

Recipe
Ingredients (serves 4-6):
1 can Barcardi Brand frozen margarita mix
Jose Cuervo Gold tequila
Grand Marnier
Ice
1 lime
Margarita salt (optional)
Directions:
Cut lime into wedges.
* Optionally, use a lime wedge to moisten the rims of your margarita glasses, then dip the rims in margarita salt.
Scoop the Bacardi mix into an empty blender.
Fill the can ¾ full with tequila.
Fill the remaining ¼ of the can with Grand Marnier.
Pour the can into the blender.
Fill remaining space in the blender with ice.
Start blender on lowest speed until ice is crushed, then increase speed until contents are creamy-smooth.
Pour into margarita glasses (using a spoon if necessary) and garnish with lime wedge.
* Rather than try to remember which of our guests don't like salt with their margarita, the Bartender often salts just half the rim of every glass.  This simplifies serving and provides every guest with the option to partake of salt, or not, as they please.
Bartender's hint:  We use Jose Cuervo tequila (instead of more expensive "premium" tequilas) as we've found it to be the perfect complement to the Bacardi mixer's smooth flavor.  More expensive tequilas don't necessarily result in a better drink!
Total time: 5 min | Prep: 5 min | Cook: N/A