A recipe from EntertainingCouple.com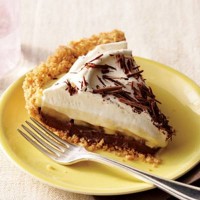 Black Bottom Banana Cream Pie
Can't decide between chocolate or banana cream? Have them both with this recipe.

Recipe
Ingredients:
1 9-inch baked piecrust
1/2 cup sugar
1/3 cup all purpose flour
1/4 teaspoon salt
2 1/4 cups whole milk
4 egg yolks
1 tablespoon butter
2 teaspoons vanilla, divided
1 tablespoon amber rum
2 onces bittersweet chocolate (60% cacao)
1 tablespoon cream
2 bananas
Whipping cream
Directions:
Prepare piecrust.  Set aside to cool.
Break the chocolate into several small pieces and place in a small bowl; set aside.
In heavy 2 – quart saucepan, stir together sugar, flour and salt.  Stir in milk until smooth.  (Use a whisk if necessary.)
Over medium heat, cook the sugar mixture, stirring constantly, until thickened and it begins to boil (about 10 minutes).  Soft boil for 1 minute.  Immediately removed from heat.
In a cup with a wire whisk, beat the egg yolks.  Add about 1/2 cup of the warm custard to the egg yolks until combined.  Slowly pour the egg mixture into the custard stirring constantly and rapidly to avoid lumping.
Return the pan to a low heat, and stirring constantly, cook until very thick and mixture mounds when dropped from a spoon.  Remove from heat.
Add about a 1/2 cup of the warm custard to the chocolate.  Set aside to melt.  Meanwhile add the butter, 1 teaspoon vanilla and rum to the custard mix.  Cover with plastic wrap and refrigerate until cool; about 2 hours.
Stir the chocolate custard and then add 1 teaspoon vanilla and the cream.  Stir until creamy.  Spread the chocolate custard over the bottom of the prepared piecrust.  Refrigerate to cool.
Spread a layer of the custard over the chilled chocolate.  Peel and slice the bananas over the custard.  Cover the bananas with the remaining custard.
Serve with prepared whipping cream.
Total time: 3 hr | Prep: 2 hr | Cook: 1 hr