Ready, Set (the table), Go!
Call me old fashioned, but it just seems like everyone should know which side of the plate to put the knife on when you're setting a table.  Now I know there are those who don't really care and perhaps have more important things in their lives to worry about.  BUT, if you do care AND you find yourself needing to set a table soon, say for a Thanksgiving dinner, then here is a quick tutorial on setting a formal table.
Chargers (or service plates) are oversized plates and, with the exception of dinner at Downton Abbey, are really more for decoration than service.  They should be used for the first course (salads and soups) and then removed for the main course.
Utensils are placed in order of use, from the outside in.
Knife blades are placed so that the cutting edge is towards the plate.
The napkin can either be placed in the center of the plate or to the left of the forks.  The fold of the napkin should face the plate (or face to the right if placed on top of the plate).  If space is limited, I usually put the forks on top of the napkin although etiquette books would probably disapprove of this and say that the napkin should be easily accessible without having to bother with the utensils.
Dessert spoons or forks can be placed above the plates or brought to the table when the dessert is served.
Only set the coffee cup and saucer if you're serving coffee with the meal.  Otherwise, bring them to the table with dessert.
Place cards are a nice touch for a table of six or more.  They allow you to decide ahead of time where people should sit and avoid any of that awkward last minute confusion among guests when it's time to sit down.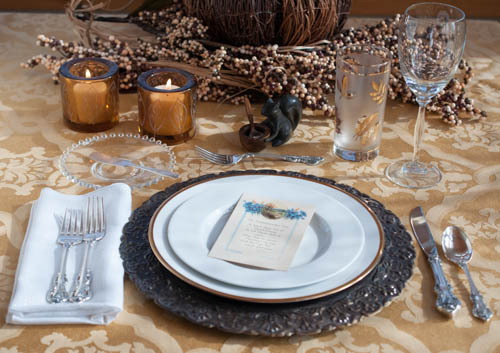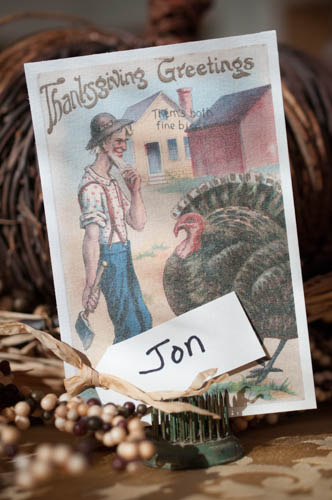 Speaking of place cards, I have a thing for old post cards, especially the ones that feature a holiday.  And, while I'm not really a DIY-type of person, here's one of my favorite things to use the post cards for.  I copy the post cards onto watercolor paper and use them for things like place cards.
I love the internet.  There is something for everyone on the internet.  Like butlers.  Who knew that if you are some guy that is hired as a butler by the royal family and find yourself in need of basic butler advice, you can find it on Butler's Guild.com?  It's where I found this little ditty:  "NEVER FORGET: You're not setting the table, you're setting the mood."  Ah, words to live by.
And just because.  Inspired by my favorite find on Pinterest this week.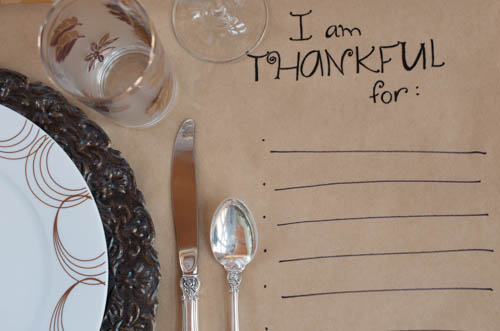 Happy Entertaining!