Martini On The Rocks
It seems I have become infatuated with frozen water.
Honestly, my love affair with ice is not a new thing.  I'm the one that, at those self-fill soda machines, gets the largest cup available and fills it to the brim with ice.  Then I add a little soda.  Soda is good but a lot of ice is what it's all about.  Then came those fabulous ice molds, and freezing water became my favorite sport.  After making the decorated ice rings (over and over again), I didn't think freezing water could get any more fun.  And then.  I found a new twist on ice cubes.  Move over ice molds.  There's a new kid in town.
Typically, it's miniature versions of anything that I'm drawn to.  Seriously, aren't mini quiches so much more, well I don't know, fun than a standard one that serves 10?  And who can resist a bite-sized cookie or mini marshmallow?  But, in this case, it's the grande version of an ice cube that is capturing my fascination.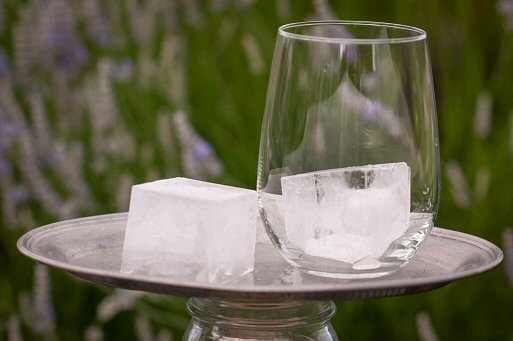 Here's the appeal of these things.  Because of their (large) size, they don't melt as quickly as their smaller counterparts.  Which makes them the perfect solution for summertime (or any warm weather) cocktails.  They provide the desired cold while avoiding the dread of a watered-down cocktail.
We first got to experience these wondrous lumps of cold while visiting friends in Florida.  (If ever there was an environment for testing the longevity of an ice cube, Florida is it.)  Based on what she had learned with her mold, when I went shopping for ours, I looked for one that also came with a tray and cover.  While silicon is great for freezing water, it's not equally great for sitting (or freezing) flat unless it has something sturdy underneath.  There are many similar ones to choose from but it was the tray and cover that sold me on this one (click here to see it on Amazon).  The compact size is also great.
We normally serve our grapefruit martinis straight up, in a martini glass.  However, lately as the temps have been rising, we've switched to serving these cocktails over ice (literally used in the single tense here, as in one large ice cube).  A grapefruit martini on the rocks is the perfect summer cocktail.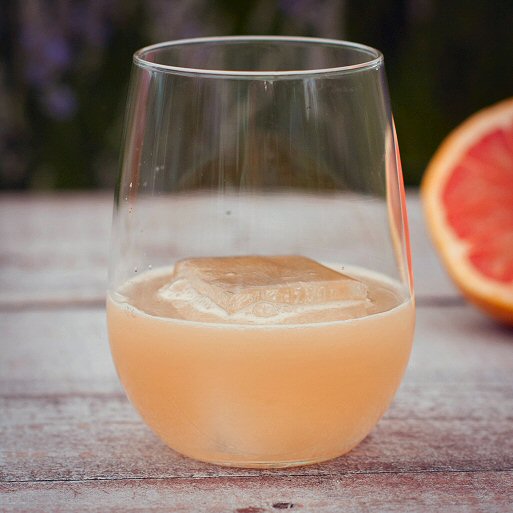 Please be forewarned that looks can be deceiving and don't be fooled by the pretty and innocent appearance of this drink.  These are martini-strength cocktails that just happen to be served cold over ice.  Dang if this doesn't make one good adult beverage.
Happy Entertaining!