Candle Confessions
There's really no denying it.  I'm a candle junkie.  I have this ungovernable urge to buy and hoard candles in quantities that exceed even a generous concept of planning for a calamity.  Thankfully, I'm a user not a hoarder.  We have candles scattered all over the house in all different types of holders.  Pillars, squatty and tall alike, are part of the permanent landscape.  Little votives make an appearance in masse when we throw parties.  And there's always one scented candle on the kitchen counter.  And for every candle you can see, you can rest assured that there are at least 2 similar ones safely tucked into my comfort stash.
Over the years, I have become quite well practiced at removing the remains of a spent votive from glass holders.  But I have a few choice candleholders that I've never really wanted to subject to the hardened wax that is the aftermath of a votive candle.  Like my beautiful glassybaby candleholders (http://www.glassybaby.com) that were a gift from a friend.  (I had never heard of these wonderful candleholders before my friend gave me two.  Wow.  The company founders have very cool story of survival and surrounding oneself with a sense of beauty and calm.  And since they come in about a hundred colors, it's a very scary discovery for someone with a potential for uncontrollable collecting.)  Anyhoo, I haven't gotten on the battery-operated candles bandwagon yet.  I'm a chronic late adopter.  Plus, I like the act of lighting a candle that flicking a little switch to "on" doesn't satisfy.  I have tried those little tea lights but I never liked how short the burn time was.  More often than not they burn out before we're finished with the main course.
So, imagine my delight when I stumbled upon a much better solution.  Votives in a glass which keeps the molten wax contained.  And they have a nice, long burn time.  I was amazed that it took me so long to find them (especially given how often I stock up on candles).  That's why I'm sharing the idea with you.  They are a great solution for those candleholders where a bare votive could potentially be a problem and where tea light candles just don't have enough burn oomph to be practical.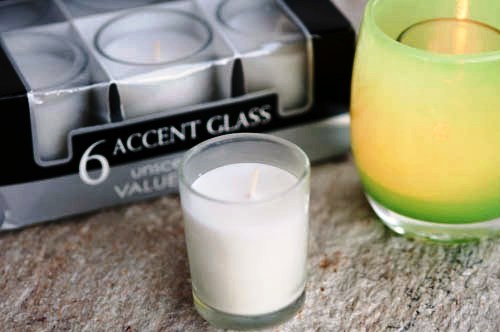 I buy these candles at Jo-Ann's, but I understand that you can buy them elsewhere as well.
Note:  These comments are not meant to be formal endorsements.  They are simply my opinions and I am not compensated if you buy anything featured here or click on any of the links provided.