When Girls Do Lunch
Things have been a little quiet around the blog the last couple of weeks.  Our energy and our focus have been on making our annual transition and migration from Washington state to Colorado, where we spend our winters.  We make this move every year, so you'd think we'd not only be accustomed to it but also could make it without much effort.  But I find, at least for me, it's a taxing exercise, both emotionally and physically.  I always find myself a bit untethered as I let go of one place and before I settle into the other, which seems to always cause my energy and creativity to wane a bit.
Now, surrounded by snow and cold temperatures, there is no denying we are firmly planted smack in the middle of winter.  With each passing day, I'm a bit more settled into our routine here, and I feel my energy rebounding little by little.
Before we left,  I attended a lovely luncheon that was hosted by a dear friend of mine.  This is an annual affair with a group of women that I went to high school with.  It was another good reminder that when I walk away from the virtual entertaining world, and step back into the real world, wonderful things happen.
Over the years, the size of the group has morphed slightly.  People on the attendee list have dropped out, and at times rejoined.  Each year, people attend based on schedules and life commitments.  But, always in attendance is a core group who never miss it.  We used to exchange Christmas ornaments but now bring something to donate to the hostess's charity of choice.  This year we donated children's pajamas and slippers to a charity that supplies to those in need.  If you want to see a group of women get all soft and sentimental, just ask them to bring something warm and snuggly for a baby or a toddler.  There was a whole lot of cooing and oohing going on in that room.
We all graduated from high school at the same time, so we all are basically the same age.   Over the years, our lives have followed different paths through marriages and kids and careers, crisscrossing and intersecting as we stumbled along.  Decades later,  we were all once again gathered around the same table with so much in common.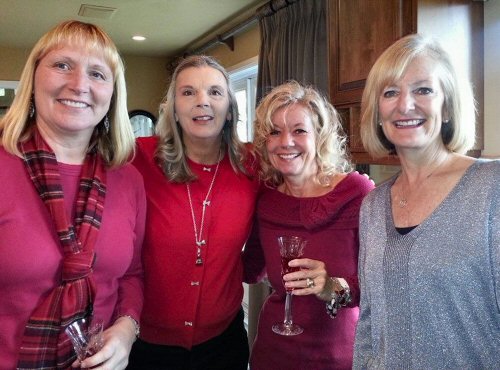 Everything about the luncheon was perfect.  Mimosas to start.  (The champagne and pomegranate juice proved to be a popular choice.)  Quiche, salads and pastries for lunch.  Cookies and chocolates for dessert.  And, I loved that my friend so unapologetically explained that a lot of the food was purchased rather than homemade.  And you know what?  No one cared!  Everyone ate heartily, thoroughly enjoyed themselves and were thankful for a place to gather.  Hostess applause for keeping the focus where it should be, which is to entertain, in your style, while remembering the real reason for a party is to bring people together.
One of the challenges of this blogging gig is that I can no longer attend a party without noticing details and thinking how I want to share them on this blog.  But I do warn all of my friends that this may happen.  Here is one of the noteworthy details from the day that any host or hostess can do to help dress up a table.  My friend set a beautiful table.  She used a plain, white table cloth and then used gold wrapping paper as the runner.  She even laced coordinating ribbon down the center.  While simple and affordable, the result was perfect!  I'm already imagining different types of wrapping paper that could be used for various tables.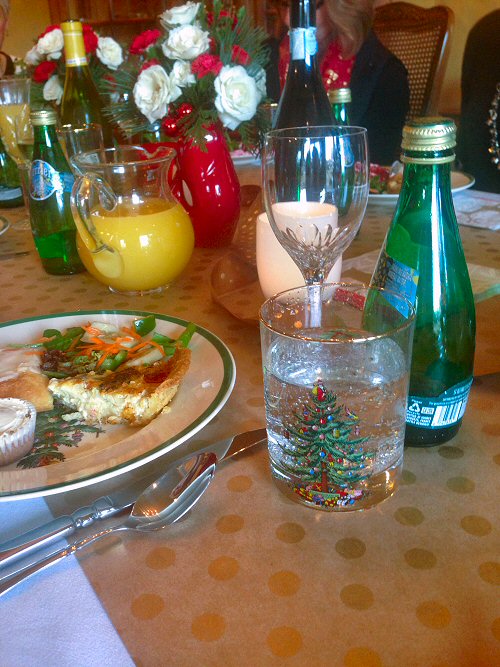 Sorry about the less than blog-worthy photo.  It's the best I could do with my phone and without keeping everyone waiting.  This was, after all, a luncheon — not a photo shoot.
Happy Entertaining!