Fresh Tomato and Basil Tart
Something had to happen.  These beautiful, ripe tomatoes, gifts from neighbors with bountiful gardens, had been sitting on our counter for a few days.  From the posts on Facebook and comments from neighbors, it seems gardens have been overrun with tomatoes this year.  This year's harvest, that had been so generously shared, gave me a revelation:  There is no need for me to toil over a garden all summer.  We just have to live next door to people who do.
But now I had a pile of tomatoes that were being neglected.  The guilt was killing me.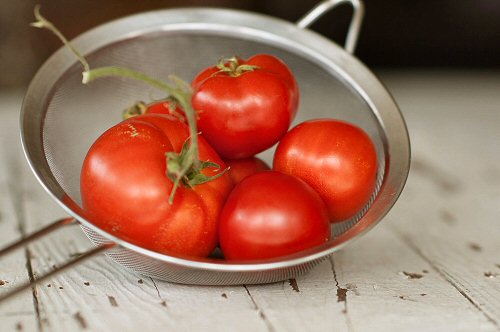 And, then it hit me.  A Tomato Tart.
Although I have eaten these delightful tarts before, I had never actually made one.  Thankfully, there are about a gazillion recipes for tomato tarts on the internet, so I had plenty of resources to choose from.  Surprisingly, it seems the only other person in the world, besides me, who hasn't made one of these is Julia Child.  Go figure.
The recipes seemed to fall into two camps.  About half of them used a puff pastry while the others called for using a simple, store-bought pie crust.  And, let's be honest.  We all know exactly what those store-bought crusts are because we've all used them on more than one occasion.  My decision to make a crust from scratch was based on (a) I didn't have a puff pastry or pie crust in the freezer (and certainly didn't want to go to the store) and (b) I have a homemade crust recipe that I've used several times before for quiche.  Since I converted from the store-bought crusts to the homemade version with the quiche, logic told me I could do the same here.  But, if you're hesitant to make a crust from scratch, then by all means go ahead and use a store-bought one.
I think the hardest thing about making this tomato tart was slicing the tomatoes, which should tell you something.  It was super simple to make and came together very quickly.  And the results were scrumptious.  Like pizza but different and in some ways better.  If that's possible.
I made a tomato tart two days in a row.  I wanted to retest the recipe and I had more tomatoes to use.  The first time I made it I didn't have any pie weights, so my crust suffered a little shrinkage as it baked.  It didn't really seem to affect the outcome of the tart, so I categorize it as "forgiving."  The second time I made it I found about eight inches of unused chain scraps in the garage and used them as weights during the blind bake, and it helped.  Now I just need to get some real weights.  Or more chain.
The tomatoes I had from our neighbor's garden were about 2″ across.  A friend of ours makes his with cherry tomatoes, which would be good, too.  I think the key is that the tomatoes are ripe and flavorful.
We just polished off tart #2.  Without a crumb of evidence left behind.  After eating this two days in a row, we've concluded that, if a food can have a sweet spot for eating, the sweet spot for the tart is about 20 to 30 minutes after it's come out of the oven.  You want to let it cool and set a bit.  And you want the cheese to cool enough that you don't burn your mouth when you bite into it.  We found that the flavors seem to really come together well after it has rested for a few minutes.  But, after about an hour, it all starts to look a little flat and tired.  This is just something to think about when you're planning your party timeline.
This tomato basil tart would make a wonderful appetizer.  I can see serving this when people are over for cocktails/Happy Hour.  It would be delicious with a crisp white wine.  Or, serve with a salad for lunch or a light dinner.
Happy Entertaining!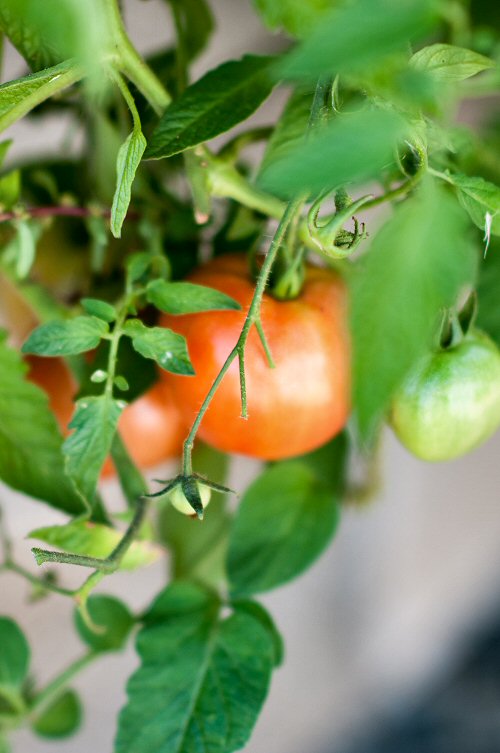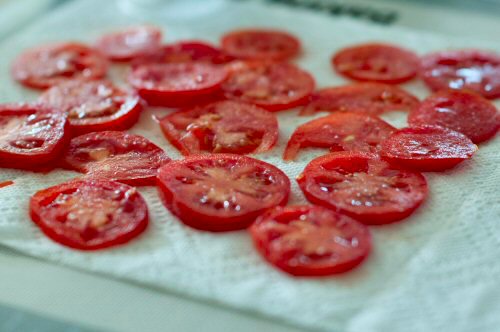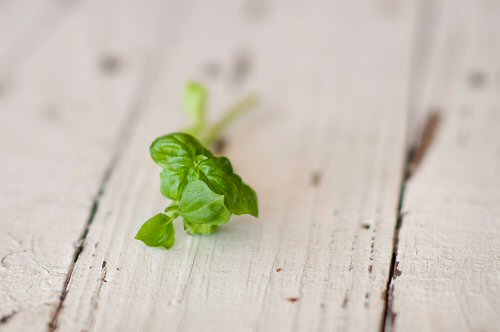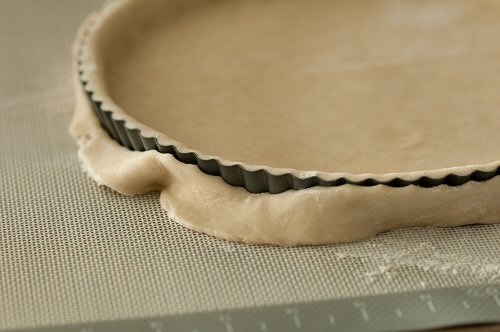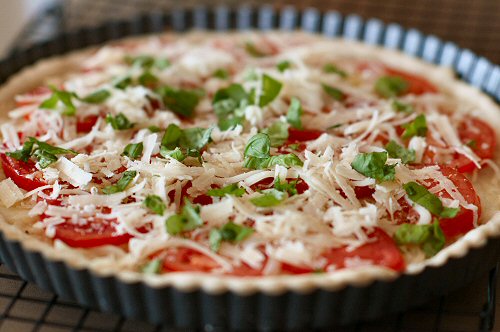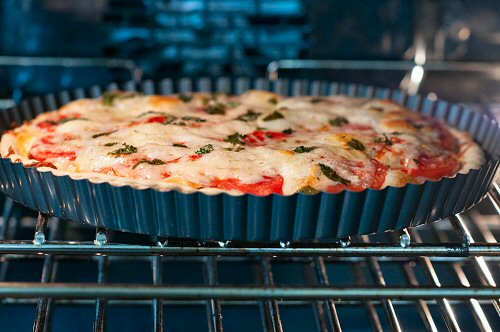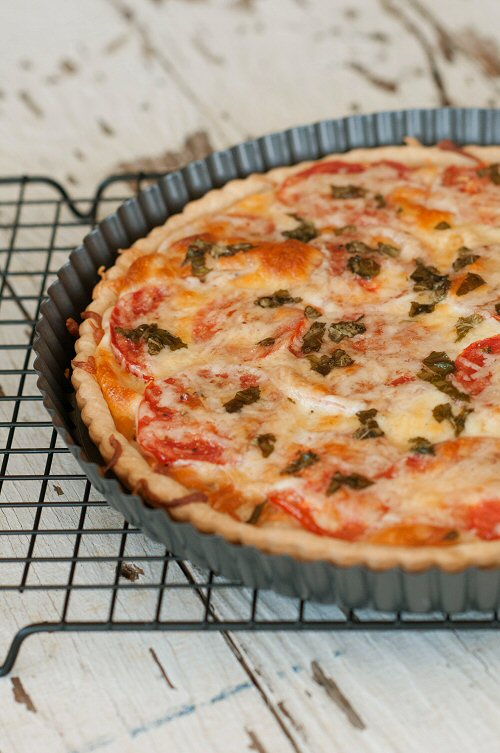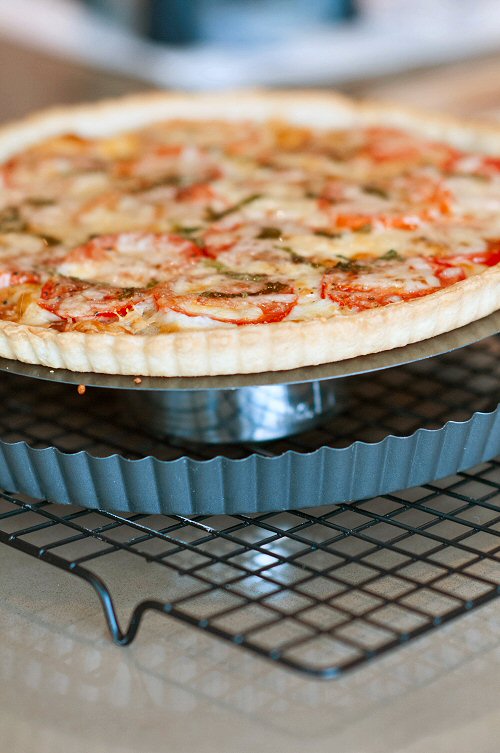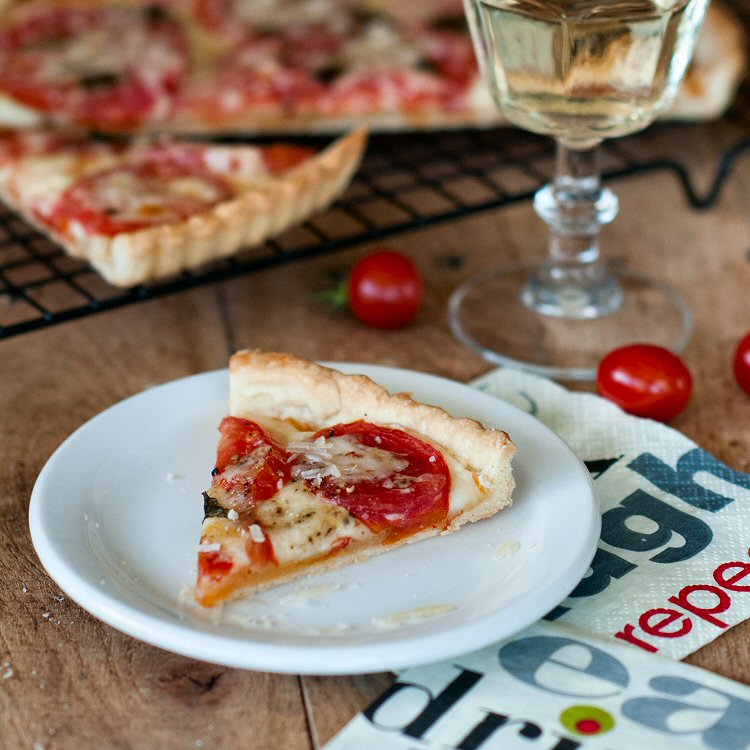 Click here to get recipe