Grilled Cuban Sandwich
I'll take Entertaining Quandaries for $200.
Answer:  "Cuban Sandwich Sliders"
Question:  "What do you take to a dock party where you're asked to bring your favorite international appetizer to share?"
I'd considered taking a tray of carrot sticks and dip with a sign that read, "Jamaican Carrot Sticks."  But then thought maybe the Entertaining Couple should try a little harder.
Thanks to my man Tyler Florence, I had a good starting point on how to make these sandwiches.  The first challenge was that we don't own a pressure cooker, and his recipe used one to prepare the pork roast.  So, instead we cooked the pork in our crockpot.  Historically, I've sort of avoided using the crockpot for any real cooking.  Which is sort of ironic given that we own two of them. But I figured if a pressure cooker was good enough for Tyler, then a crockpot had to be good enough for me.  (And please don't send me letters.  I really do know there is a difference between the two.)  I adapted Mr. Florence's recipe as I went, making adjustments for the crockpot versus the pressure cooker.  Before putting the roast in the crockpot, I seared the pork in a pan on the stove.  This not only locked in the juices but also allowed us to avoid a colorless cooked-in-a-crockpot-looking roast.  The pork was perfectly seasoned and tender after just a couple of hours, so we were well on our way to a Cuban sandwich.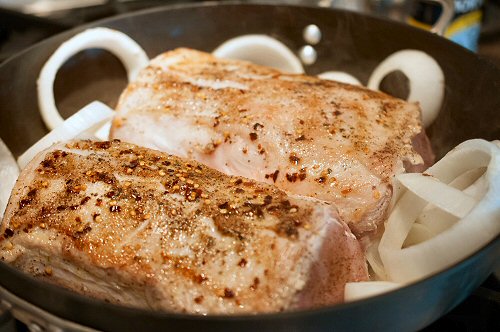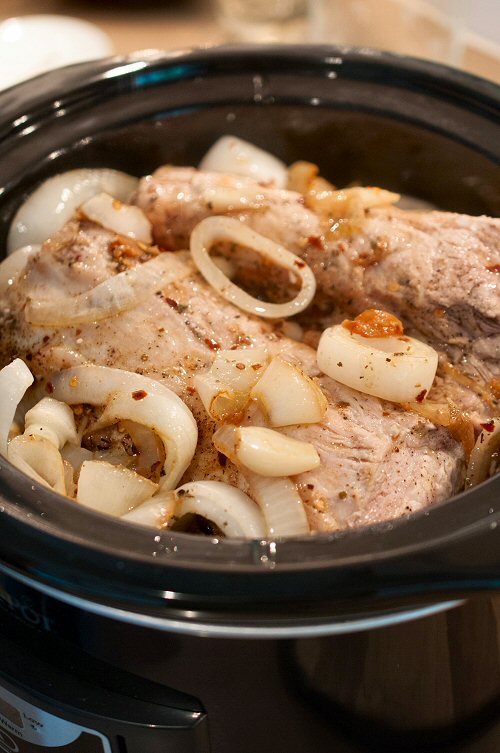 The sliders were good.  Not great.  And the only reason they weren't great is because they were cold and a traditional Cuban sandwich really does need to be grilled.  So, we probably won't do these sandwiches as sliders again (which means I'll have a new quandary if asked to bring an international appetizer somewhere else).  But we will definitely be making these grilled Cuban sandwiches again.  These sandwiches are a great thing to serve when you have guests for lunch.  You can make the pork ahead of time and just assemble/grill the sandwiches when it's time to eat. They are de-LISH-ous!  Jon ate a grilled Cuban sandwich for lunch several days in a row and commented on how much he enjoyed them each day.  (And the pork can be used to make other meals as well.)
Happy Entertaining!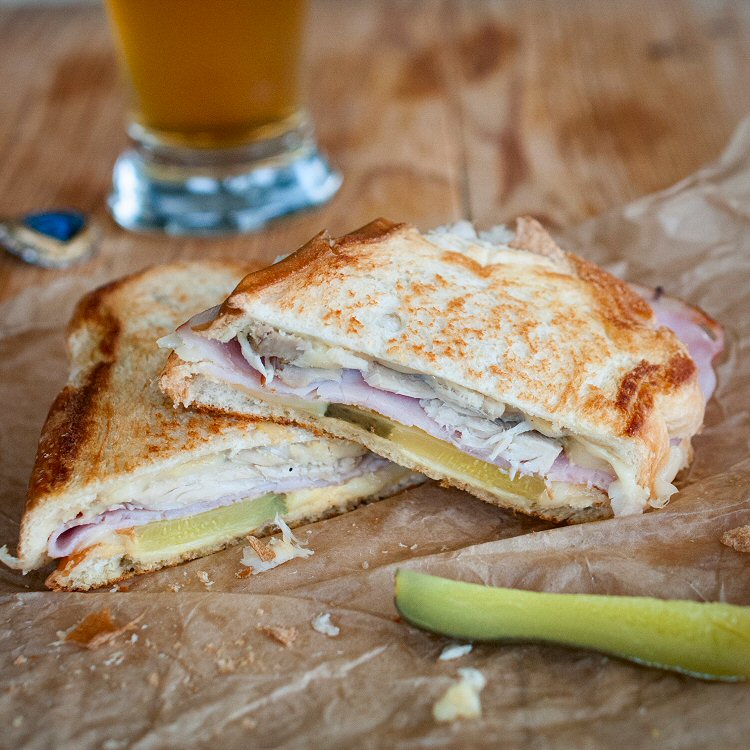 Click here to get recipe