A recipe from EntertainingCouple.com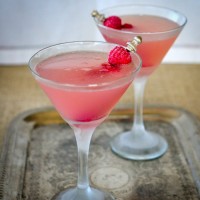 Raspberry Lemon Drop Martini
A close friend gave us a bottle of Hangar 1's Fraser River Raspberry vodka, and on a whim we tried it in a lemon drop. Big hit! Read our post for more info...

Recipe
Ingredients (serves 2):
Ice
1/2 fresh lemon
1 1/2 ounces Hangar 1 Fraser River Raspberry vodka
1 1/2 ounces Absolut Citron vodka
1 1/2 ounces Cointreau
2 ounces premium lemonade (Simply Lemonade or Newman's are our favorites)
Fresh raspberries, for garnish (if available)
Directions:
Skewer some fresh raspberries and place in freezer (optional, for garnish)
Fill cocktail shaker with ice.
Squeeze in the juice of 1/2 of a lemon.
Add the vodkas and Cointreau.
Top with the lemonade.
Sugar the rims of two chilled martini glasses (optional).
Shake the drink briskly for 10-15 seconds.
Serve raspberry lemon drops in the chilled glasses. Garnish with frozen raspberry skewers.
Bartender's Tip:  For best mixing results, use a cocktail shaker for your raspberry lemon drop that's large enough to allow for at least 1 inch of empty space after adding all ingredients.  And then shake your raspberry lemon drop until the shaker is frosted on the outside.
Total time: 5 min | Prep: 5 min | Cook: N/A